Asics surpasses its own benchmark by adding updated materials and improvising new trainers' shoes.
And Metaracer is the perfect example of innovation where the brand includes meta carbon fiber plate shoes for racers. After a while, magic speed comes into the limelight for the same materials.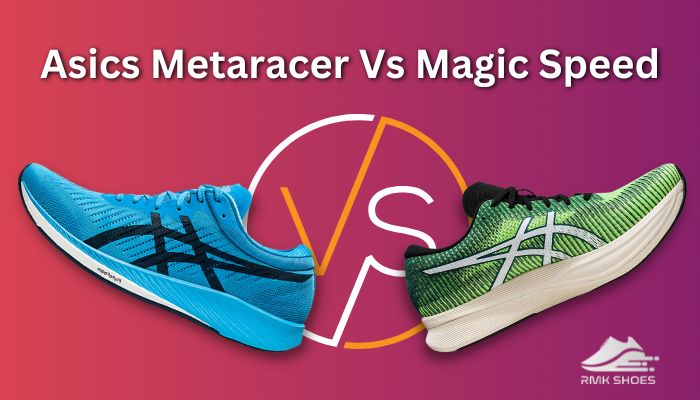 Choosing between these two racers is difficult, so I'll compare them thoroughly in this article based on my personal usage.
Let's dive into the details!
Distinctive Feature comparison Between Asics Magic Speed and Metaracer
Though the Asics Metaracer and Magic Speed shoe's main element is identical, they carry numerous feature variations. I found the major differences in materials, prices, styles, and others. In this writing portion, I'll rigorously compare their offered functions.
Let's check out the significant feature comparison between Metaracer & Magic Speed:
1. Materials
I noticed many differences after wearing both Asics pairs, most changes appear in their material variation.
Both include carbon plates, but Magic Speed only incorporated half-length plates in their forefoot, while Metaracer featured full-length carbon plates between their midsole and outsole.
The Metaracer uses an engineered mesh perforated upper, making them ultra-breathable on hot summer days. It helps to keep your feet dry after a tough running session.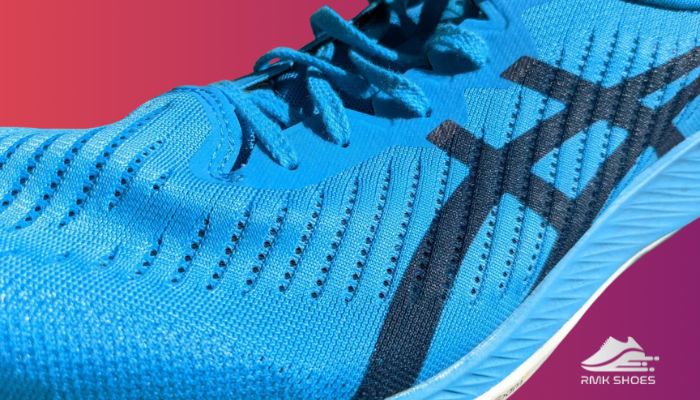 Meanwhile, Magic Speed implements the FlyteFoamBlast EVA midsole, which offers a sturdy, less cushioned footbed. These shoe uppers are also manufactured with engineered mesh fabric without the perforated toe top.
2. Comfort
Racer shoes ensure stability over comfort, yet you feel like running on the cloud with your Metaracer pair. The midsole is not designed with bouncy materials; still, you will find a soft underfoot.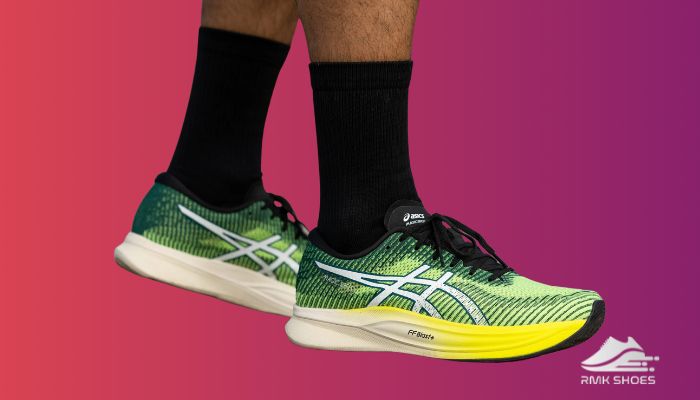 Moreover, they only carry 6.7 oz, which is minimal compared to any other racing gear. The shoe also comes with a 9 mm heel offset, so if you love the ground touch feel during running, Metaracer is your preferred one.
Conversely, Asics Magic Speed offers minimum cushioning, and they don't feature comfort. The small padding midsole still provides a limited cozy feel without compromising stability.
Asics Magic speed shoes carry 8.1 oz, which is slightly heavier than the Metaracer; although they are a little weighty, they are still appreciable as a racer shoe.
3. Price
Magic Speed is the best match for all racers, depending on the price. Metaracer charge is more than double of Magic Speed shoes.
Metaracer demands $159 per shoe, which is unsuitable for everyone.
Magic Speed asks for $69 only; it's pretty affordable than the other trainers' pairs.
Even though the Metaracer offers many appealing features, the price can't justify them.
4. Durability
As we all know, Durability plays a vital role in trainers' gear. It's disheartening if your cherished pair falls apart during running.
Asics' Carbon plate shoes are not as durable as other Asics pairs. But Meta & Magic provide enough durability; you can run fluently with those for around 200 miles (ca. 322 km).
5. Size & Fitting
According to the brand perspective, Magic Speed & Metaracer shoes run true to size, but some users find MS fits a little smaller than their actual size.
Lengthwise, both shoes come in the perfect size, yet I found a little narrow toe box in magic speed, which offers a snug fit. The sizing of Asics is similar to Adidas; if you ever use Adidas, you can imagine how the pair will fit your feet.
Comparatively, the Metaracer fits perfectly with your actual size.
6. Flexibility
Metaracer shoes are incorporated with full-length carbon plates, Whereas Magic Speed only includes them in their forefoot portion, and that mismatch clearly shows in their flexibility.
Due to its missing carbon plate on the heel area, you will find Magic Speed pairs are slightly stiffer when you compare them with your Metaracer movement.
7. Variety & Availability 
Magic Speed proposes a huge amount of color and sizing options compared to Metaracer.
Don't lose heart, Metaracer also offers a variety of hues for men and women, but the debating point is they don't launch any updated versions. Meanwhile, MS already inaugurate Magic Speed 2 as their new model.
Apart from that, both shoes are available on the Asics website. You also can order them from Amazon, GOAT, and other legit websites.
Pros & Cons of Metaracer and Magic Speed
After all the detailed analysis of both Asics racer pairs, you already know about their attributes. In this portion, I'm going to discuss the advantages that come along with their offered features. Plus, I'll mention their drawbacks to help you in your selection.
Explore the benefits & disadvantages of Asics Magic Speed and Metaracer:
Metaracer
Pros
»

Lightweight.

»

Perfect amount of cushioning.

»

Top-notch breathability.

»

Durable enough as racer pair.

»

Runs true-to-size.
Cons
»

Charge huge amounts.

»

Limited variety option.
Magic Speed
Pros
»

Balanced cushioning.

»

Durable.

»

Affordable price.

»

Huge amount of variety.
Cons
»

Run narrower.

»

Lack of breathability.

»

Stiff in nature.
Which One Should You Pick?
Metaracer & Magic Speed shoes provide special functions, but the carbon plate is the main reason behind their recognition. The carbon plate makes them iconic among other branded shoes.
But between Metaracer and Magic Speed, I found Metaracer more appreciable for their less weight and perfect fittings.
Not only that, the shoes are filled with other splendid characteristics like durability, coziness, and breathability. Apart from the price, all the quality is impressive. Though I love my Metaracer, I can't ignore the price.
Luckily, in Magic Speed, you will find more or less pretty similar attributes within the budget. They also manufacture with an engineered mesh upper, half carbon plate, but instead of the features, they charge half of the Metaracer.
So, if you have a budget shortage, go for the Asics MS pair because it also provides the same function but in a limited way.
Parting Thoughts
While Metaracer is featured with comfort, perfect fittings, and breathability, Asics MS is more concerned about the budget. Both shoes are best on their own; you can pick any of them without hesitation.
Which Asics did you choose after reading this piece? Let me know in the comment section.
Happy shopping!