Are Heelys as hyped as they were in the early 2000s?
Is it the same today as it was back when Heelys made a buzz among children aged 12 to 15 with their wheeled shoes?
Looking for all these answers? Don't worry; this article has got it all.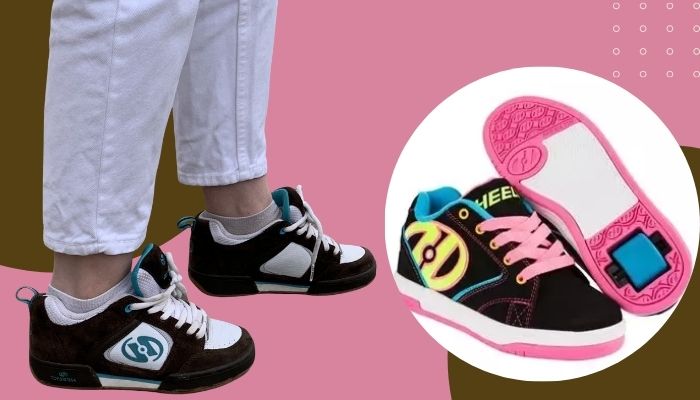 After spending a significant amount of time researching Heelys, I have decided to share with you all the current popularity of Heelys as well as how they began their journey and rose to prominence.
So without further ado, let's dive into the writing to know the answers.
Heelys: A Brief Context
The journey of Heelys started back in 2000 in Carrollton, Texas, by Roger Adams.
Roger Adams wanted to create shoes that could give both a skateboard feel and be used as walking shoes. And after a few months, his concept became a reality, and that's when Heelys embarked on their adventure.
Heelys aired a 30-second commercial on the MTV channel in 2001, featuring their wheeled shoes.
Shoes with wheels built into the sole were a unique and intriguing concept that drew the attention of a large number of individuals.
Heelys was a big success after that; by 2006, they had opened 7,400 outlets around the world and sold $44.6 million worth of shoes.
However, Heelys' fame did not last long, as their sales dropped due to safety concerns among children and parents.
Follow our other guide to know Are Work Boots Tax-Deductible.
Are Heelys Still Popular In 2022?
Heelys aren't as popular as they once were, but they're still in business. With wheels underneath their soles, Heelys established a major fad among children aged 12 to 15. However, due to safety issues, Heelys' sales dropped, and they lost their popularity rapidly.
Back in the early 2000s, shoes with rollers were a unique and interesting concept.
When Heelys were first released, not only children but also their parents were ecstatic to get their hands on the wheeled shoes for their children.
Children wore the Heeyls everywhere, from school to shopping malls, because they gave them a fun experience every time they wore them.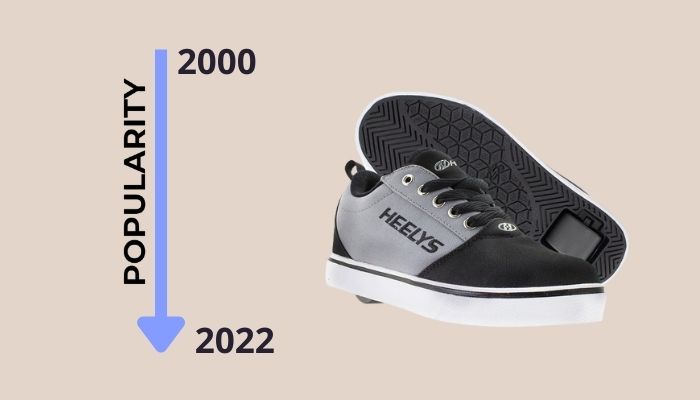 However, this fame did not last long, as the number of injuries among children increased as a result of the roller shoes, which many children found challenging to balance in.
Though their popularity has dwindled, Heelys is still in the business of making wheeled shoes for children, but this time their shoes are more secure and safe.
Check out our separate post on How Much Do Steel Toe Work Boots Weigh.
Why Did Heelys Lose Their Popularity?
Whether in school, shopping malls, or any events, no other shoes were found on the children's feet other than Heelys. At the time, Heelys' business was booming thanks to its unique wheeled shoes.
But the problem arose when the number of injuries increased among children.
Since there was a hype to wear Heelys everywhere, children wore them to schools too.
And to walk in Heelys, one needs to have a good balance. Most of the beginners who walk or run on them on the first try fall over and have head injuries, and these injuries mainly happen in schools.
That's when schools started banning shoes with rollers in them. Because injuries were common and schools even banned the shoes, parents have limited their purchases of Heelys for their children.
By 2009, Heelys' sales had declined to the point where they were no longer popular.
Also, check out my new post on What Is A Steel Shank In A Work Boot.
Are Heelys Really Good?
If you keep the risk of falling aside, I would say Heelys are a good pair of shoes with amazing comfort.
The padded footbed provides a pillow-like feel to the feet and keeps them comfortable for a longer duration.
The outsole is made of a solid and durable rubber that will not wear out and last for a long time.
Heelys also includes a microfiber lining within the shoes to keep the feet cool and breathable.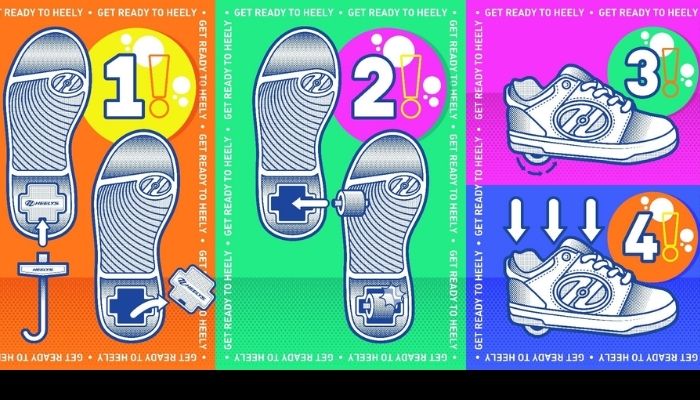 The wheels on Heelys are detachable, so if you don't feel comfortable walking in them, you can remove them.
I know it's risky, but if you have a good balance, walking in Heelys can be fun. However, children should avoid wheeled shoes or wear them under the supervision of an adult.
Do check our latest post on the how to Soften The Back Of New Shoes
Are Heelys Difficult To Walk?
Yes, on the first attempt. Heelys are difficult to walk in since they are not the same as a typical pair of shoes and are heavier. You must have good balance and be able to walk on the balls of your feet; otherwise, you risk tripping and injuring yourself severely.
You can remove the wheels if you have trouble walking in the Heelys.
However, walking in the Heelys isn't too difficult if you know a few tricks. If you genuinely want to walk in the Heelys, you must first correct your gait.
It will be difficult to simply stand on the shoes for the first few days, but you must walk on them more frequently since the more you walk on them, the quicker you will become used to them, and your balance will improve.
Are Heelys Banned In School?
Yes, many schools banned Heelys for safety reasons. Heelys are not only banned at school but they are also prohibited in many malls. Kids love to roll down the hallways and sideways, where most of them lose their balance and injure themselves severely.
Not only Heelys, but any shoes that have wheels attached are prohibited from wearing in most schools.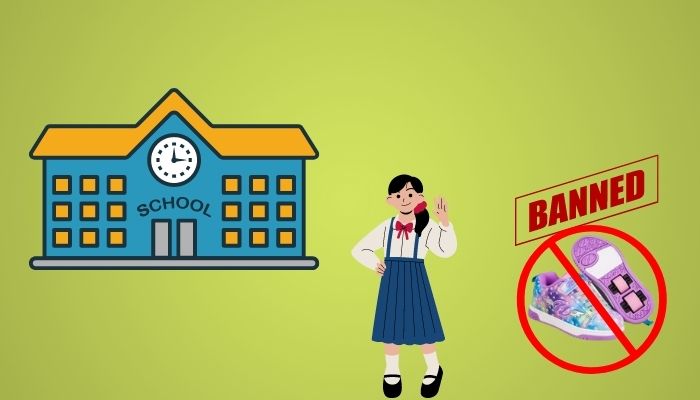 The wheels on the heel make it fun for kids to ride, but the thick sole and slick wheels can cause accidents at any time.
Heelys are not supposed to be rolling uphill or even running, but when youngsters start playing, they don't pay attention to these rules and break their arm or leg, which is why many schools have outlawed the use of Heelys.
Also read, Are Timberland Boots Good for Motorcycle Riding
How Safe Are Heelys?
If you know how to roll on Heelys, you're safe. However, injuries are pretty common when using Heelys for the first time. As a result, if you're a newbie, always use knee pads and a helmet to protect yourself.
Heelys are safe as long as your kids don't wear them all the time because studies show that wearing wheel shoes can strain muscles, create knee and back pain, and affect walking posture.
If your children or younger siblings are adamant about wearing Heelys, I advise letting them roll on them occasionally and keep a watch on them.
Follow our guide on Why Do Timberland Boots Hurt Your Ankle
Are Heelys Still Being Manufactured?
As I said earlier, Heelys may be out of popularity, but they are not out of business.
You can still find Heelys in many shoe stores and on various websites.
Heelys aims to get back on track by offering new styles that are 40% lighter than previous models and incorporating modern technologies in their shoes to minimize accidents.
So, grownups, wake up your inner child since Heelys now has a wide range of wheeled shoes for adults as well. So, if you want to relive your childhood, give them a try, but only with appropriate safety precautions.
Related guides: How To Repair Torn Nubuck Shoes, How To Dye Ugg Boots, How To Clean Timberland Boots With Household Items
Final Words
If you believe Heelys are no longer available, you are mistaken. Although Heelys' popularity has waned, they are making a comeback with much more advanced styles for both adults and children.
If you or your children desire to roll on the Heelys, be sure to take the required safety steps to avoid injury.
I hope you were able to find the answers you were looking for. If you have any queries, please leave them in the comments section. Until then, stay safe and goodbye.