With plantar fasciitis, you must find a pair with extra support while purchasing shoes.
However, when you are a Chacos fan with this painful foot condition, you may wonder whether Chacos will be a good choice for you or not.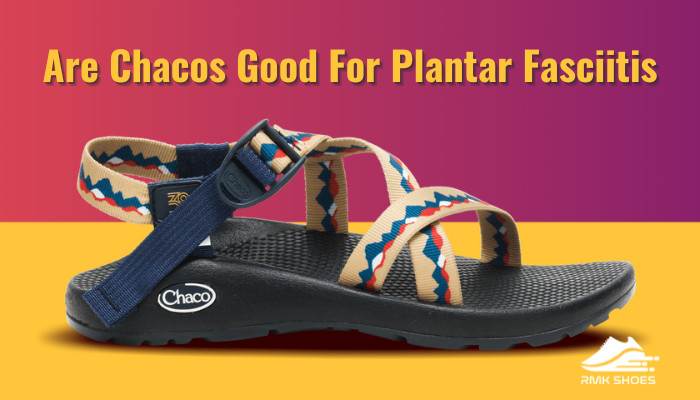 Don't worry!  This article will resolve all your queries as I've compiled all the verified info by going through people's opinions, doctor's recommendations, and from my personal experience as well.
So, keep reading!
Are Chacos Good For Plantar Fasciitis?
Yes, Chacos are a great option for those with plantar fasciitis. As their unique strap design combined with the contoured footbed and breathable upper provide the support and comfort needed to alleviate pain and discomfort associated with this condition.
Plantar fasciitis is a common foot condition causing pain in the heel and bottom of the foot– often caused by overuse or strain on the plantar fascia. While stopping you from going hiking or running, it may hinder all your daily activities as well.
Being in a condition like that, you need a pair of shoes that will not only support your feet but also will let them move naturally.
And as for Chacos, these Gecko shoes are adaptable in any weather condition, and in any adventure since hiking in Chacos can really give you the maximum comfort. Also, it alleviates your foot pain as they have good arch and heel support.
Their user-friendly footbed with heel riser design helps to support the feet and reduce the impact while walking on rugged surfaces.
Chacos is one of the earliest brands to release sandals with arch support, while also being approved by the American Podiatric Medical Association.
According to Podiatrists, people with Plantar Fasciitis should wear snug-fitted sandals, as this helps to keep the foot in place. Well, with Chacos, by adjusting the straps you can easily get the grip you need anytime.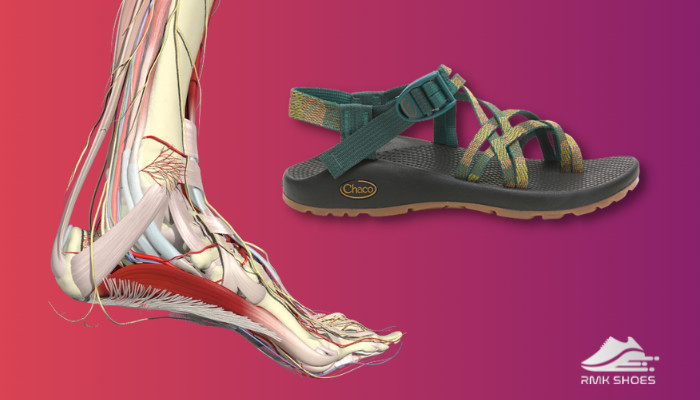 Overall, with the comfortable design and good support system, Chacos can relieve you from any Plantar Fasciitis generated pain or discomfort.
Note: It is always wise to consult with a podiatrist or physical therapist to get the best guidance for your specific case.
What Features Make Chacos Best For Plantar Fasciitis?
For the last 30 years, Chacos have released shoes that are both comfortable and durable. But you will be amazed to know that while offering a wide range of cool designs, they can improve your foot condition also.
Going with that, though Chacos are not specifically designed for Plantar Fasciitis, they are beneficial for the condition. This is because they offer some user-friendly features to soothe any related pain and discomfort.
Here're the special features which made Chacos good for Plantar Fasciitis:
Unique Strap Design
Chacos features a unique strap system that wraps around the foot and ankle and allows a secure and customizable fit, which is important for those with plantar fasciitis.
The straps are adjustable to provide extra support to the heel and arch, which can help relieve pain and discomfort.
Great Outsole
Another benefit of Chacos for plantar fasciitis sufferers is the outsole of the sandal. Chacos are designed with a durable, non-marking outsole that provides excellent traction and stability on all types of terrains. This can help reduce the risk of slips and falls and prevent the condition from worsening.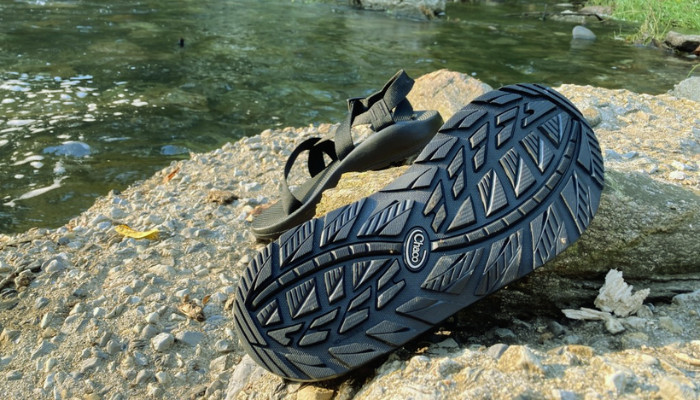 Ergonomic Footbed
Additionally, Chacos are made with a specially designed Ergonomic BioCentric® footbed, which is flexible and contours the shape of the foot. This will provide a comfortable and supportive fit, which reduces the pressure on the heel and arch.
This special footbed offers you a pain-free walk and gives protection to your feet as well.
Heel Design
When you got Plantar Fasciitis, you need footwear with great heel support. And, Chacos did a good job in that area. Their design includes a heel riser and craved heel, which provides great support and handles poor pronation also. Moreover, Chacos run True to Size. So, you'll get a perfect fit while wearing this footwear.
Breathability
Chacos is a reliable option for people with Plantar Fasciitis because of their breathable upper design. The roomy design with Z shape straps allows the feet to breathe and keep them dry for a long time.
Waterproof and Durable materials
Chacos is one of the few brands that offer shoes wearable in all kinds of terrain. The use of waterproof material and rubber soles will prevent your feet from getting injured by slipping on wet surfaces. This helps in Plantar Fasciitis, as you won't like to get injured when your legs are already in a bad condition.
Moreover, Chacos got all the features needed in an ideal footwear option for Plantar Fasciitis sufferers. Besides, if you are a hiker with the same foot problem, without any hesitation, go for these stylish yet comfy sandals.
Do Podiatrists Recommend Chacos?
If you are suffering from Plantar Fasciitis, you must consult a Podiatrist before choosing any footwear. This is because you need to be very careful with shoes, as the wrong one might worsen the condition.
Podiatrists often recommend shoes according to your foot shape, size, or severity of the pain.
As for Chacos, there isn't any record showing that these shoes are Podiatrists recommended. If you, however, looking for such a pair, Birkenstocks are good for plantar fasciitis.
But you need not worry if you're a Chaco lover as they are still suggested by many past or ongoing Chacos users with Plantar Fasciitis. And also approved by the American Podiatric Medical Association.
Nonetheless, If you are a hiker with this foot condition and looking for a summer shoe that will also support you through the long hours, Chacos can be the choice for you.
Do Chacos Sandals Help Plantar Fasciitis Pain?
Yes, Chacos sandals will help Plantar Fasciitis pain if you choose the one that fits you perfectly.
Though Chacos are not actually designed to treat any foot condition, they can help with pain associated with Fasciitis condition. This is because of their comfy design with their own Ergonomic BioCentric® footbed and heel support.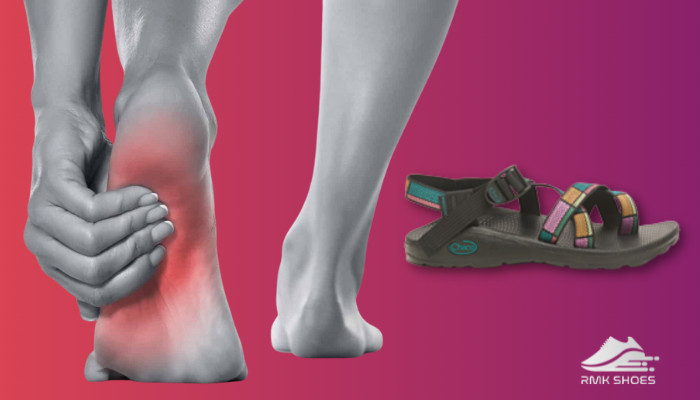 Chacos were designed specifically keeping outdoor adventurers in mind, and all the features were included to provide comfort for them.
However, you may find them a little heavier than the other shoes, but with all the beneficial characteristics they can reduce the pain related to  Plantar Fasciitis.
Does Wearing Shoes Help Plantar Fasciitis?
Shoes may not cure the condition, but choosing the right one can alleviate the associated symptoms.
Plantar Fasciitis is often caused by overuse or strain on the plantar fascia, a band of tissue that runs along the bottom of the foot. Hence, wearing shoes without any orthotic insole continuously for a long time can be a cause for this condition.
So, you must wear footwear that provides enough support and cushioning to prevent this condition and the discomfort you might feel.
And, shoes like Chacos fill in all the requirements you will be needing for that.
Conclusion
Plantar Fasciitis is a common disease that can make your life difficult if not taken care of soon.
However, picking the right shoe may help you lessen the discomfort you may face. And if you are thinking about choosing a pair of Chacos, this article will help you make the right choice.
So, stay tuned, and leave your feedback here in the comment box!