If you think about purchasing a new pair of shoes, then you blindly go for the vans.
Vans manufacture various types of models for ladies, gents, and children. But their Vans Classic Slip-On is creating a craze for their modern customer.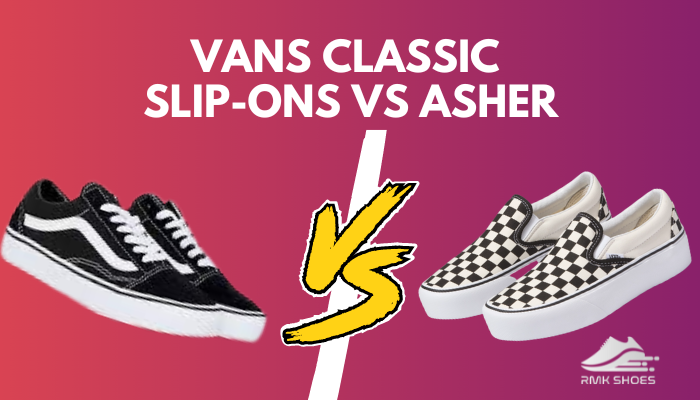 Asher is the updated version of the Classic one with some extra features.
I know you are wondering which one you should buy or which meets your requirements. You are lucky because you choose the right place to clear your confusion.
I bought and experienced both pairs of Vans and I'll help to pick your desired one.
Keep reading till the end to find which suits you better.
Overview of Vans Slip-On
Athletes around the world use Vans skateboarding shoes and snowboarding boots.
They were introduced exclusively for today's extreme sports culture.
On March 16, 1966, the business Vans was established in Anaheim, California. Paul and Jim Van Doren are set to start a business with partners Gordon Lee and Serge Delia.
The Van Doren Rubber Company is distinctive in that it makes shoes on-site and offers them for sale to the general public.
12 consumers order shoes that first morning, which are produced that day and available for pickup that afternoon.
After that, they designed The Vans #95, which many of us love. In modern times they rename #95 to Era.
In the 1980s, the company developed a variety of innovative shoe styles in an effort to attract more customers.
When Sean Penn wears Vans Classic Slip-Ons in the movie Fast Times at Ridgemont High, they attract notice worldwide. That model hit most of the target customers properly.
Vans Classic Slip-Ons kept their position till now. Vans failed in its attempts to diversify into other, more mainstream sports and was forced to declare bankruptcy in 1983.
But their hard time passed very swiftly, they returned to their previous form in 1988.
Since 2009, Kevin Bailey, president of Vans, has been influencing the crowd to draw in an older population as well. The business seeks to move beyond identifying itself only through its skateboarding roots.
The original Vans action sports brand and an icon of creative expression. After spending 51 years, they relocated to a new global headquarters in Costa Mesa, California.
Van's primary goal is to sell its products. Vans also maintain a close focus on its target market.
You may also like to read about do you wear socks with Vans Slip Ons?
Classic Vs Asher Vans: 7 Key Differences
Asher is a slip-on Vans shoe with a streamlined and lightweight form that draws design inspiration from the original Vans.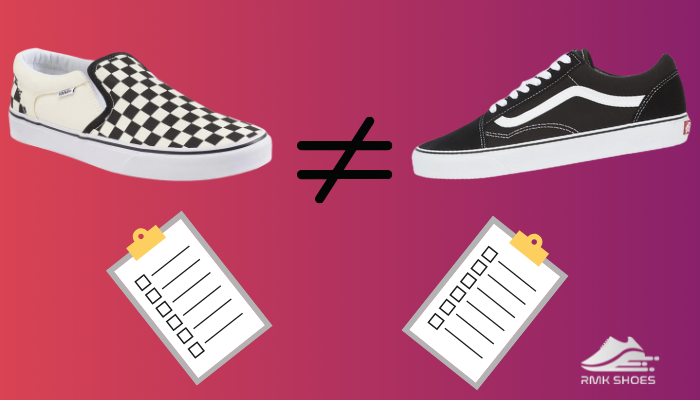 The Asher and Classic Vans Slip-Ons are hardly distinguishable from one another, but there are still notable and discernible variances.
The ones made by Asher are Slip-Ons with a somewhat higher side and a different size stitching pattern.
They are exclusive to these stores and are a Vans brand. This is somewhat similar to certain retailers' exclusives with companies like Converse.
Here is the differences between Classic and Asher:
Characteristics
Actually, they are manufactured from various materials. Although it deteriorates more quickly, the shoe itself is significantly cozier.
You would notice slight variations like the Asher's absence of an extra-cushioned Insole and the Classic Slip-presence On's of a padded heel.
With a single piece of canvas covering the entire front of the shoe, there are no spots to pinch your feet, which is the shoe's primary benefit. The Classic one requires just several wearings to break in, but once they do, they're fantastic.
Numerous Slip-Ons come in a variety of colors and prints thanks to the vast frontal canvas surface, including stripes, graphic prints, and solid colors.
The ideal summer sneaker for anything with a unique look.
They would make excellent travel shoes. The Asher takes a more fashionable approach, but the conventional slip-on focuses on the traditional. Therefore their stitching patterns also differ from one another.
Price
When you buy a new pair of shoes, It's essential to think of them as an investment.
I feel like I've spoken that statement a thousand times already. The Asher is designed as a cheap alternative to the traditional slip-on.
If you want to buy shoes and your main concern is budget, then you can go with the Asher blindly. The desire for Asher to be a more widely available and reasonably priced choice ought to be a strong indicator.
However, The Asher is more purchasable, usable, and easily accessible than the Vans Classic Slip-On.
Construction
The Asher is available in a large selection of colors and graphic patterns, compared to the Classic slip-on with around 5 different color selections.
For enthusiasts of contemporary fits and street style, the checkerboard slip-on has become an iconic and must-have design.
When it comes to design, the Asher beats out the traditional slip-on because of its versatility and a large range of options.
The Asher is a better option for you if you enjoy wearing vivid clothing and vibrant colors. It also comes in custom designs, which you may have produced when you buy a pair.
Fitting
A cushioned neck in classic Slip-Ons adds comfort while making your greatest moves, and elastic accents ensure a comfortable fit.
Due to its sleek design, Asher has a more appealing silhouette. It is also portable and slim.
Although people with huge feet shouldn't choose it, you might face some problems because of their narrow footbed. The Asher is also lighter than the traditional slip-on, which provides it with a unique level of comfort.
In Asher, The uppers are often thinner, more breathable, and highly absorbent of perspiration.
Shape
The Vans Classic Slip-On sneakers let you rock an iconic brand and look while bending down with ease. The Asher has a tiny portability advantage over the traditional Slip-On due to its slimmer design.
The flag label and Off the Wall symbol is featured on the heel of these sturdy Vans Classics sneakers for a distinctive skate and casual look.
Although they are hauntingly identical, the shapes are difficult to distinguish at first glance.
They differ from the Asher significantly in that they are slimmer.
The toe section of the traditional slip-on is also more rounded, giving your toes more space to wiggle about. On the Other hand, Asher offers you the narrow toes.
Comfort
Typically, this design variation makes the Asher less comfortable to wear than the Vans classic slip-on.
The Asher is lighter than the Vans original slip-on because of its more compact form. Since the heel is padded with a comfortable soft foam that gives the Classic slip-on an ultra-comfy sensation.
Weight
The weight distribution and weight of the Vans classic slip-on are both increased by the insole.
Because of their lightweight construction, these shoes are cozy to wear. The insoles of the traditional slip-on are so much thicker and heavier that your feet will feel incredibly soft when wearing them.
The sole of a shoe typically makes up roughly 65% of its overall weight.
The Asher weighs less than the Vans traditional slip-on due to its more streamlined and sleeker form.
But because the Asher is less expensive, some of the features are different, and the materials' quality varies as well. Each one stands out for different reasons because of its own special qualities.
Similarities Between Vans Classic Slip-On & Asher
A Vans slip-on is the best choice for effortless streetwear styling because it is both instantly recognizable and incredibly adaptable.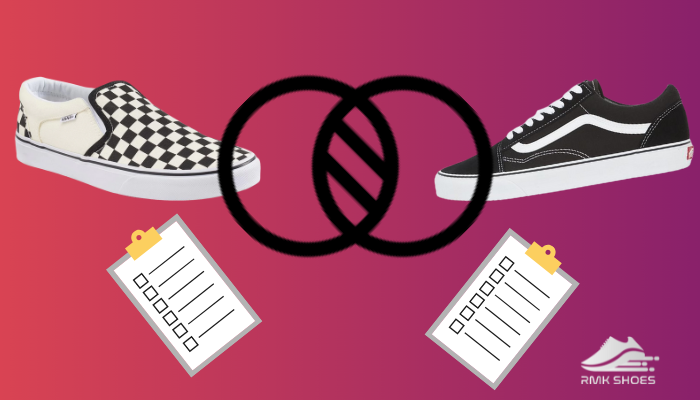 The shoe is tough enough to survive vigorous action because skateboarding is a sport that frequently includes slipping and crashing.
Here are the Similarities I found in both shoes:
Material
The traditional Vans slip-on is composed of a textile that is incredibly strong, lightweight, and breathable.
It is also very light because, as I already indicated, smooth and simple leg movement is essential using a bulky material.
The material was created to endure any damage or improper handling.
The Asher is created to be a little more trendy. Although it still maintains the sleek and cozy look. The uppers are manufactured from a choice of materials depending on the motion graphics.
Regarding the quality of the Sole, there isn't a noticeable difference between the Asher and the Classic Vans slip-on.
However, compared to the traditional Vans slip-on, this makes it less durable.
Style
The Asher is based on the traditional Vans slip-on. Therefore, its style and design are surprisingly similar to those of the previous.
Vans are popular because of their non-slip properties, and both of these incredible pairs of shoes feature them. The Classic Slip-On and the Asher both have very similar designs.
The length of the Sole platform to the waffle pattern under the sole and the shape of the uppers.
Durability
Both shoe Soles are manufactured of essentially the same material and quality.
These Slip-On sneakers include a Waffle outsole for the necessary traction and durability on every landing.
The Asher also has distinct stitching. It strays a little from the sturdy stitching patterns and the traditional slip-on features, which makes it far more durable.
Because the insoles of the traditional slip-on are so much thicker and heavier.
After wearing them, your feet will feel incredibly soft when wearing them, almost as though they are walking on fluffy clouds.
Outlook
The Asher is more beautiful than the Vans original slip-on since it is available in a wide range of graphic designs and colors.
That smaller things are typically cuter, and the sleek form adds to their stylish factor. The basic slip-on lacks side stitching, and Van's emblem is dispersed throughout the shoe, unlike the Asher.
Pros & Cons of Vans Classic Slip-Ons Vs Asher
Vans brand is the most demandable for their new and modern collection, which goes with your daily fashionable outfit.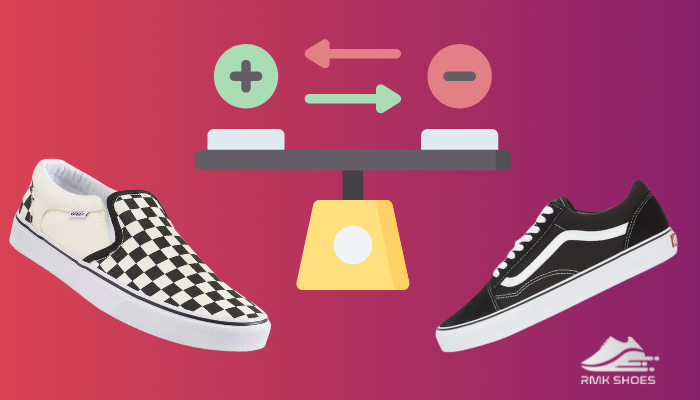 These companies perform their best to give you your desired look. Classic slip-on and Asher vans are the most selling pair of shoes for their different appearance.
However, there are certain pros and cons to particular Vans Shoes for their features.
Pros of Vans Classic Slip-Ons
Stylish and attractive looks.
Simple to put on and remove.
Several color schemes.
Padded insoles.
Cleaning and replaceable insoles.
Excellent for daily use.
Cons of Vans Classic Slip-Ons
The sole material is thick.
Little heavier than the asher.
Pros of Vans Asher
Durable canvas upper.
Perforating dual elastic, easy to put on.
Lighter than the classic one.
Padded insoles.
Designed remarkable stitches.
Cons of Vans Asher
Shorter lifetime than the Classic one.
Only casual outfits.
Also, check out our separate post can you wear Vans to work at Walgreens?
Vans Classic Slip-On Vs Asher: Which One Should You Get?
Asher shoes offer the best features at an affordable price. These shoes are best for daily rough use.
Most people probably refer to them as "fake" vans because Asher is not a typical van Design that is a little distinctive. Still, Classic Vans are just not what the majority of collectors prefer.
Perhaps their most iconic model is the Vans Slip On shoe.
They make wonderful weekend casual shoes because of their low-profile style and ease of slipping them on. You'll see that the Asher's side stitching is different, and the "Vans" tag is located in a different place. The ones made by Asher are slip-on with a somewhat higher side and a different size sewing pattern.
These also come in additional shades like an off-white variation of the black checkered, dark purple, navy blue, and mauve. This is due to the fact that these Vans were readily available alongside vintage High Tops.
I've had a pair of traditional slip-on checkered shoes for years. I chose the platform solely out of curiosity and with the belief that they would offer a little more arch support.
They certainly offer a little extra support, and I was pleased to discover they are really comfy.
Who cares what other people think? Buy what you want.
FAQ
How Heavy Are Vans Shoes?
The majority of Vans footwear is actually fairly lightweight. Each of those shoes weighs between 0.98 and 1.03 pounds, making its weight nearly identical.
Are Vans Cozy Enough For Daily Wear?
Vans sneakers provide excellent support and all-day comfort. The proper footwear must provide the best possible support and cushion.
Do You Need Socks to Wear Vans?
Skipping socks is acceptable if you're only wearing your Vans for a short while. Nowadays, wearing shoes without socks is common, but this isn't the situation.
How can you break in your Vans Slip-Ons?
Vans can take anywhere between 6 and 8 weeks to break in properly, in my experience. Wear two pairs of thick socks and your new slip-on Vans around the house to break them in.
How can you avoid getting blisters from your Vans?
The simplest approach to avoid getting blisters from Vans is to put bandages under your socks as a preventative measure. The bandages will protect your feet from the rough canvas upper of your Vans.
Vans slip-on shoes: do they fit true to size?
Vans Slip-On Shoes offer the same comfortable fit as the company's traditional shoes, in my experience, and they run true to size.
Verdict
So, Which pair of shoes do you think is the best?
You should choose a pair that will offer you the highest level of comfort, safety, and durability.
In my opinion, both shoes perform in their targeted sectors. They are the most demanded model of vans.  Your choice of footwear style is ultimately up to you.
I honestly hope that you found this post to be beneficial. Let me know which shoe you purchased in the comments below.