Sometimes it can be so challenging to get the perfect pair of boots according to your feet size.
A minor ingredient in cooking can make a big difference. Like that, a tiny size difference between Timberland Wide and Medium can create many changes in your boot fitting.
When choosing a pair from Timberland for the first time, you must get confused with the sizing like Timberland Wide and Medium. Which will be the perfect pick for you?
Don't worry about it!
I love Timberland boots, and I used a lot of pairs from them. From my experience, I can explain this brand's differences and sizing specialty.
So hang tight till the end to clear your confusion.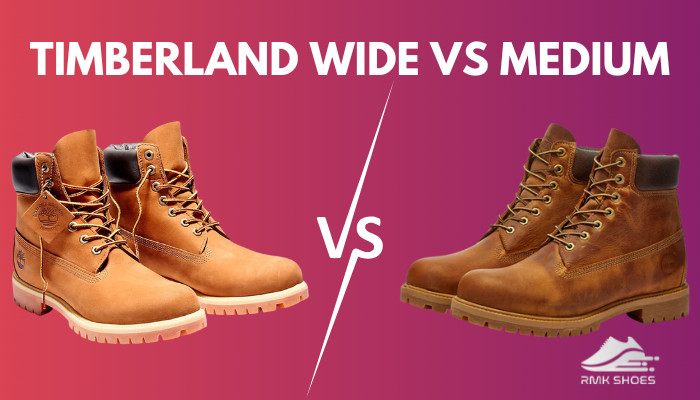 What Are The Differences Between Timberland Wide vs Medium?
The difference between Timberland Wide vs Medium is only ⅛ inch. You may be surprised to know this. But this little number indeed makes a significant distinction. It happens very repeatedly with people that they pick a wrong-sized boot.
This wrong-sized boot will cause blisters, Pastula, rash and so on.
To get a perfect size Timberland, you must know the difference between Wide vs Medium.
The Wide and Medium Timberlands are called so based on the toe box size. The Wide Timberland has a wider toe area. This allows the wide feet to let in comfort. The medium Timberland has less wide toe area.
Though the difference is only 0.125, you should not ignore them at all. Otherwise, your feet can get smashed with the interior of the boots.
What is Special in Timberland Sizing?
Timberland creates a huge sizing option for men and women. Recently they launched kids boots too with their sizing diversity.
Timberland was originally made according to the US standard size. But they are enriched with the converted sizing of the UK and EU. Another plus point of Timberland is they have their own size chart.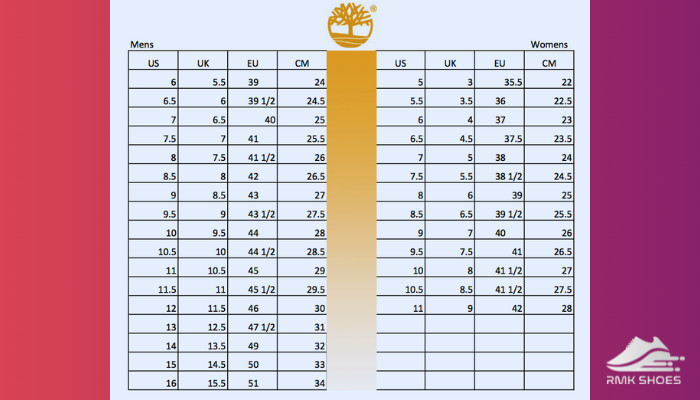 And you can find the variation of size according to the country in this chart.
From the launching period, Timberland means to wear as a loose fit. In the '90s, loose boots were a fashion trend. The heel should have an extra space to pop up while walking during that time.
Over time, Timberland created its space as waterproof work and hiking boots.
Timberland adjusts its sizing according to the customer's choice, as they think loose-fit boots are ok for professional work, but I don't agree with it.
Basically, Timberland is good for wide feet. The heel area of Timberland is narrower. If you have wide feet like me, you will feel free in Timberland.
If it feels exhausted in the box, don't go for a larger size. Timberland offers a different sizing for wider legs.
You may find W and M mentioned in Timberland sizing. W is for a wide fit, and M is for a medium fit.
You can find the same length for W and M in Timberland, which is so unique about this brand.
Are Timberlands Good for Wide fit?
Yes, Timberland is perfect for wide feet. The style of this brand is basically wider in the toe box. I love the room for my toes in the Timberland boots.
If you have wide feet, it will be your best option to pick a Timberland.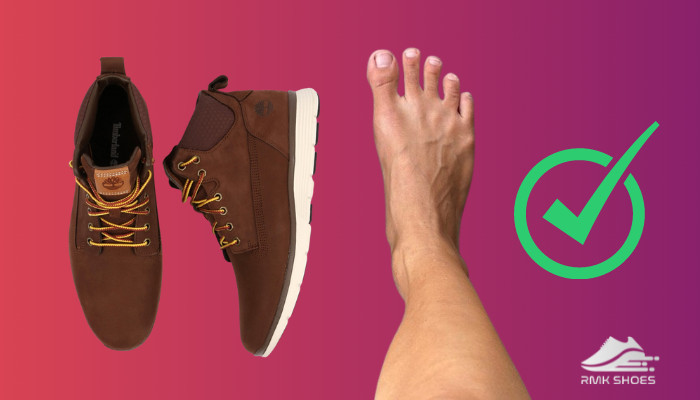 When I started my journey in Timberland, I found they have special sizing for wider feet. They called them W version boots. W boots are a thing of joy for me.
Timberland offers the same boots in three different sizes. They are W, M and L. Without that, you can choose the Timberland pro series, which is mainly for the wide-footed community.
Timberland Sizing For Men And Women
Timberland is a brand famous for its vast sizing range, so they offer different sizes for men and women.
Men and women can wear the same boots from Timberland. But it might not be comfortable enough for women because of their posture.
In Timberland, medium width for women is leveled as B, and wide width is leveled as D. Apparently, the D size is considered medium width for men. The wide width size is E for men.
Thus you will find EE if you have extra wide feet in Timberland.
How Can I Get My Perfect Timberland?
Knowing the actual size of your feet is very important before grabbing a pair of boots. You should apply this not only for timberland but also for all the brands.
You should measure your feet in the proper way to know the sizing. If you don't know the method, I will help you in that case. You can easily measure your feet size, you just have to follow the steps.
Here are the steps of feet measuring:
Step 1:
You need a piece of paper to measure your feet.
You can keep them on the floor and attach the paper to the wall with scotch tape. Do whatever you want, but the paper should not move.
Step 2:
Put on your socks. And place your feet on the paper. Stand against the wall. Make sure that your back and heel touch the wall.
You should wear a thick pair of socks for winter. Otherwise, you can wear any type of socks with any thickness. It is absolutely fine to wear your regular one.
Step 3:
Take a pencil and start marking from the point where the longest part of your feet touched the paper. Try to do this with extra care because half an inch difference can make a major conflict.
Step 4:
Move your feet from the paper. Take a ruler or measuring tape and start measuring from the heel to the mark. This is the length of your feet. Note it down.
Step 5:
You should measure your feet' width to get a proper measurement. Stand on your feet and measure the widest part of the feet. You can take the help of measuring tape. Wrap the tape and find the joining point of the two edges.
During the measurement, make sure all your body weight stays on the feet.
Step 6:
Repeat the total process for your next feet. You can measure 2 or 3 times and make an average to get the more perfect size.
Pro tips:
Measure your feet at night or late evening when your feet get exhausted throughout the day.
You should go for the next size if you are between the sizes. And for the width, you should choose the closest one.
Take help from your friends or family to measure your feet. It will help you to detect the exact size.
The volume of your feet is equally important as the width. If your feet ' volume is thin, then go for a narrow medium. You should choose a medium pair for medium volume and pick an extra wider pair for high volume.
You can get the perfect size for your feet by following these processes. You should choose your Timberland according to your feet measure, which you get from the measuring process.
This is how you can purchase a perfect Timberland boot.
FAQ
Are Timberlands wide fit?
Timberland runs wide to hold a larger count of explorers. Mostly all other brands follow the narrow feet pattern for their boots. But Timberland is a better fit in wider sizes.
Is Timberland true to size?
Yes, Timberland is run true to size. As Timberland has a wide size range, you can find your preferred size out of them.
Do Timberland boots hurt?
At the initial point, Timberland boots can hurt your ankle. These boots are meant to be rough and durable so that they might be tough and stiff at first.
What does M mean in shoe size?
M means medium width size in shoes. In Timberland, M is equal to D. Normally, M or D means the regular width for men.
How long does it take to break in new Timberland?
It needs 80 to 100 hours to break in a new Timberland boot. Try to wear your boots 2 to 3 hours a day. It would take quite a long but will keep your feet happy.
Final Remark
Timberland's sizing diversity is huge. So the chance of picking the wrong pair is big. I tried to explain the difference between Timberland Wide vs Medium.
I Hope this article helped you to decide on which boot is perfect for you.
You should pick your pair carefully. Never forget to wear socks while buying a Timberland or measuring your feet. If you like loose-fit Timberland, you should keep your lace slack. But don't go for the bigger size.
Buying big-size boots from Timberland will be a foolish decision.
Comment below and let me know about your preferable Timberland boots.