Saphir Renovateur and Venetian, the two most popular and widely used shoe creams. Both the creams not only enhance the beauty of the shoes but also nourishes the shoes and adds extra life to them.
As both Saphir Renovateur and Venetian are excellent creams for shoes, therefore, choosing the best one is undoubtedly a tough call. To clear your confusion and make your purchasing process easier, I have briefly explained the pros and cons of these two creams in this article.
Don't forget to read the entire article so that you can clear all your doubts regarding Saphir Renovateur and Venetian shoe creams.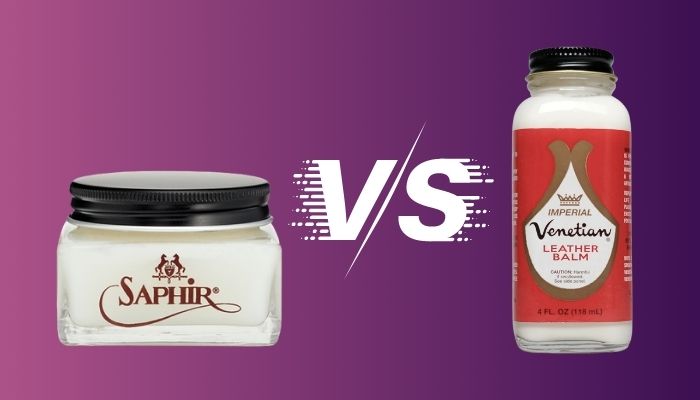 Follow our guide to know How Much Shoe Cream To Use
Features Of Saphir Renovateur Shoe Cream
Saphir Renovateur is known as the most luxurious shoe cream of all. Most of them keep Saphir Renovateur shoe cream in their top list, from high-end shoe designers to ordinary people.
Saphir Renovatuer is usually called liquid gold because only an ounce of this shoe cream will cost you a hefty amount. However, you will be awestruck by the shine and finishing it gives to the shoes. When you invest a large amount of money in a pair of high-end shoes, then why not spent a few more bucks on a shoe cream that will make your shoes look pristine all the time.
Usually, shoe cream only focuses on giving a mirror-shine to the shoes. But Saphir Renovateur not only provides a nice sheen to the shoes but also conditions and nourishes the shoes, which makes them very long-lasting.
It's not just that the Saphir Renovatuer shoe is expensive because it is a branded shoe cream. But the ingredients they use in their shoe cream are full of goodness and do wonders to the shoe.
Let's look at the ingredients of Saphir Renevateur, which makes them the best shoe cream of all.
Saphir doesn't disclose their ingredients list as they don't want their formula to get copied. However, from a thorough research, I came to know some of the essential elements of Saphir Renevateur.
The cream is mink oil-based; this oil is extracted from the fatty layer under the mink skin, which helps to condition the leather. The shelf life of mink oil is a lot more than any other oils, so it stays on the shoes for an extended period without the chances of it going bad.
It also contains wax-like beeswax, which makes the shoes more supple by conditioning and nourishing them. Along with making the shoes soft, the beeswax repels water and gives an excellent gloss to the shoes.
Unlike other shoe creams, the ph level of Saphir Renovateur is neutral, which means fewer chances of leather eroding. Also, Saphir claims they don't use any sort of solvents in their shoe cream, but there are some alcohols in the cream in a small amount which doesn't affect the leather.
But before that, go through our epic guide how to Clean Shoe Insole
How To Use Saphir Renovatuer Cream On Shoe?
To get the dazzling shine on the shoes, you need to know the correct ways of using Saphir Renovsteur cream on your shoes.
Here are the steps following which you can polish the shoes with Saphir Renovateur shoe cream:
Things you'll need:
Shoe tree
Horsehair brush
Soft cloth
Saphir Renovateur
Check out our separate post on how to Prevent Shoe Polish From Drying Out
Step 1: Clean the shoes
Start the polishing process by cleaning the shoes first. Take off the laces and insert a shoe tree inside the shoes. With a horsehair brush, brush the shoes to and fro from heel to toe. Brushing the shoes will loosen the dirt particles. If you don't have a horsehair brush, you can use a toothbrush alternatively.
If your shoes are heavily dirty, you can damp cloth and gently wipe off the dust. But make sure to dry the shoes before you proceed to the next step.
Follow our other guide to know how to Stop Shoe Rubbing Back Of Your Ankle
Step 2: Use Saphir Renovateur cream
Wrap a clean cloth around your two fingers and pick up a small amount of cream on it. In a circular motion, lightly rub the cream into the shoes. Make sure you cover the corners of the shoes.
Let the shoes sit for a couple of minutes to let the cream dry.
Step 3: Polish the shoes
With a horsehair brush, buff the shoes evenly until you are satisfied with the shine.
Let the shoes sit about 24 hours before you wear them.
In a hurry? Check out my new post Does Liquid Shoe Polish Expire
Features of Venetian Shoe Cream
If you are on a budget and looking for an excellent shoe cream, no other cream beat Venetian shoe cream. I am sure the majority of people have a jar of Venetian shoe cream in their shoe rack. And why not? The Venetian shoe cream is affordable, and it condition and polishes the shoes very well.
Venetian cream is specially designed to deep clean the leather pores, moisturizes the leather fabric, and nourishes them. When the cream is frequently used on the shoes, it increases the leather's life and protects them from scratches and scuffs.
Venetian shoe cream contains all-natural ingredients, waxes, oils, dyes, and pigments. All these waxes and fine oils moisturize and conditions the shoe fabric. While the beeswax, lanolin, and shea butter penetrate the leather, making them very soft.
There are other ingredients which are confidential so that other brand doesn't duplicate their formula.
But before that, you check out Do Shoe Stretchers Work
How To Use Venetian Cream On Shoe?
Venetian cream's usage on shoes is pretty easy; you just have to follow the correct method.
Here are the easy steps following which you can polish shoes with Venetian shoe cream:
Things you'll need:
Horsehair brush
Venetian shoe cream
Shoe tree
Clean cloth
Step 1: Clean the shoes
It is mandatory to use shoe polish on clean and dirt-free shoes. For cleaning the shoes, insert a shoe tree into the shoes to keep the shape intact and brush them vigorously with a horsehair brush. Brushing will remove all the dirt particles.
Step 2: Work the cream
Pick a small amount of Venetian cream on the cloth and gently rub the entire shoes with the cream. Remember, a little cream will go a long way, so don't try to take much product and end up in a mess.
Step 3: Buff the shoes
With a horsehair brush, buff the shoes to generate some warmth, allowing the waxes and oils to penetrate the fabric and moisturize them.
Leave the shoes for 24 hours before you wear them.
Differences Between Saphir Renovateur And Venetian Shoe Cream
Both Saphir Renovateur and Venetian shoe cream are made with high-quality products, which adds all the goodness to the shoes. But there are few differences between them which you should know before buying.
Here are the differences between Saphir Renovateur and Venetian shoe cream:
The first and most important dissimilarity is their pricing. Saphir Renovatuer is said to be one of the most expensive shoe creams. In contrast, Venetian shoe creams are very affordable and said to be the go-to product for conditioning and polishing shoes.
The texture of both creams is different. The oil content of Saphir Renovatuer is more, so it is more oily than Venetian shoe cream.
Saphir Renovatuer darkens the leather a little bit, whereas Venetian shoe cream doesn't change the color.
Conclusion
Shoe creams are food to any shoes, along giving an excellent luster, provides the shoes with all the goodness. Both Saphir Renovateyr and Venetian shoe cream are best and don't compromise with the quality, so now it is up to you which one you will choose for your shoes.
I hope this article helps you in concluding choosing between Saphir Renovateur and Venetian shoe cream. If you have any queries regarding this topic, please share your opinion in the comment section.