I recently had serious leg pain and was looking for a pair that could relieve my pain while providing enough support for athletic activities.
As my Podiatric friend suggested, I tried out New Balance and Gravity Defyer shoes for the first time.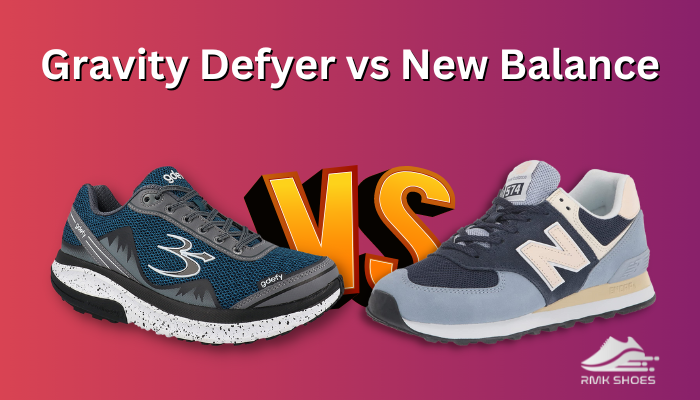 Although people say both shoes are similar in performance, I found they provide distinctive benefits to my feet.
Now, I'll be sharing my experience with NB and GD, so you can make the best choice.
Short Overview of Gravity Defyer and New Balance
Both Gravity Defyer and New Balance offer a range of comfortable shoes for athletic and lifestyle purposes. Apart from their unique mottos, the brands carry differences right from the beginning. 
So, let's take a peek through the history of Gravity Defyer and New Balance:
Gravity Defyer
The brand was founded in 2008 with the intention to revolutionize footwear and alleviate the discomfort experienced by many.
Going with the motto, the company introduced various innovative technologies, such as VersoShock and VersoCloudto, to reduce the impact on joints. 
Hence, they are particularly popular among individuals with foot conditions or those seeking added comfort during daily activities or physical exercise.
New Balance
New Balance has a rich history dating back to 1906. The brand started its journey with an aim to create innovative arch support solutions to address the needs of people with foot-related issues.
Initially, the company was known for its arch supports and orthopedic products. But in the 1930s, New Balance stepped into the world of shoes through its athletic footwear line. 
Since then, New Balance has been a trusted name in the athletic shoe industry.
Gravity Defyer vs New Balance: How Do They Differ in Features?
The main difference between Gravity Defyer and New Balance is in the exceptional technologies they use in their shoes. Gravity Defyer uses a spring cell cushioning technique. On the other hand, New Balance features a full-length FreshFoam and FuelCell midsole cushioning.
Other than distinctive cushioning, the shoes differ in comfort, material, and size.
So, let's find out how Gravity Defyer and New Balance shoes differ in all these features:
1. Upper Material
New Balance uses a range of bio-based materials to make the upper, including-
Leather

Pigskin hairy suede

Engineered mesh

Primeknit 
Conversely, Gravity Defyer features a microfiber leather upper with reinforced mesh toe and tongue in most of its shoes. The brand also uses Nubuck leather for its sandals.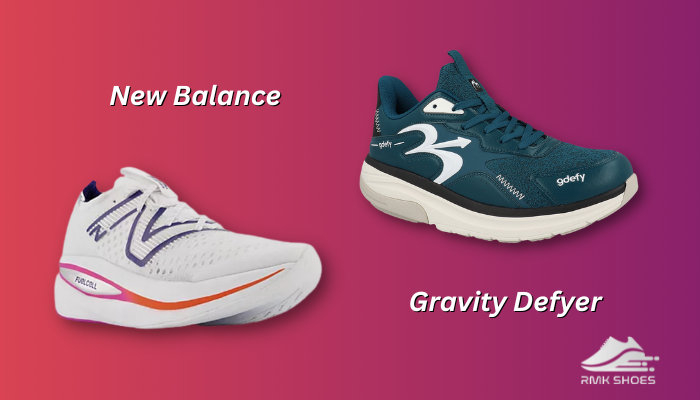 Although the Gdefy uses a mesh toe and perforated side construction, I found the mesh upper of NBs more breathable.
2. Style and Design
Despite being a newer brand, most Gravity Defyer shoes are more versatile and classic than the New Balance. 
I've worn them for walking sideways, and other casual outings, and these versatile shoes went just perfect with all of my outfits. Besides, you can wear their Tolken Casual Shoes for formal meetups as well.
On the other hand, New Balance offers shoes with a modernized look and a no-sew sleek finish. Apart from being a functional pair, these shoes can also uplift your final look.
Furthermore, New Balance offers a wide range of shoe styles, which is kinda limited to a few styles for the Gravity Defyer.
3. Comfort and Arch Support
With ample cushioning, both New Balance and Gravity Defyer are comfortable shoes for running and all-day wear.
However, I found the New Balance shoes provide better cushioning and arch support than the Gravity Defyers.
The Defyers feature hybrid VersoShock and VersoCloud cushioning that offers a soft and responsive ride.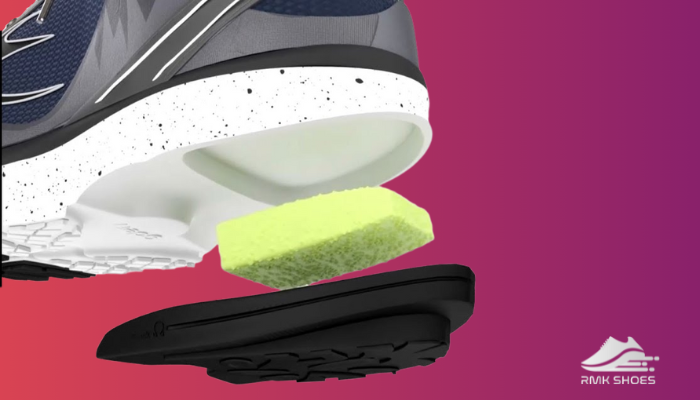 But this soft cushioning of Defyers is not supportive enough if you are walking or running on rough terrain.
Although the shoes helped with my leg strain, they won't be the best choice if you have ankle pain. That's because most Gravity Defyers are unstable while walking on uneven ground and can worsen your pain.
Besides, the shoes squeak when walking in them, and the sound becomes even more irritating in relatively quiet areas.
Conversely, New Balance offers superior arch support and firm FreshFoam cushioning. And they provided enough stability and protection to my feet, even on rough ground.
4. Fit and Sizing
Most New Balance shoes fit true to size, but the Gravity Defyers run smaller.
I went with my regular US 11 size for the NBs, and they fit perfectly, not too tight or loose. Also, these shoes' slightly elongated collar and ankle liner offers a more secure fitting.
Meanwhile, for my pair of Gdefy, I had to go with the US size 11.5 for a better fitting.
On another note, unlike the Gravity Defyers, you don't need any getting used to time with NBs as they fit perfectly right out of the box.
5. Cost
As a well-known century-old brand, New Balance offers shoes both in an affordable and expensive range. 
For example, NB Numeric 272 shoes come at a price as cheap as $74. Whereas a pair of MADE in UK 991 will cost you around $259.99.
Meanwhile, Gravity Defyers offer shoes within an average price range of $99 to $160.
So, for a more affordable option, go with the Gdefy. 
6. Durability
Although both shoes come with high-quality materials, I found New Balances more durable than the Gravity Defyers.
After a few months of wear, I was left with a pair of GDs having broken heels and treads.
Meanwhile, I've been wearing my Fresh Foam NBs for the last 8 months, and they are still having my back both for running and training sessions.
What I liked and Disliked About Gravity Defyer and New Balance Shoes?
Don't worry if you still can't decide between the GD and NBs. Now, I will list things I liked and disliked about New Balance and Gravity Defyers to make your decision easier.
New Balance
Pros
»

Better cushioning.

»

Suitable for casual and professional runners.

»

Better arch support.

»

Protective fit.

»

More breathable upper.

»

Lasts longer.
Cons
»

Expensive.

»

Slightly heavy. 
Gravity Defyer
Pros
»

Good for back strain.

»

Removable insoles.

»

Comfy spring cell cushioning.

»

Lightweight.  

»

Affordable. 
Cons
»

Less stable in rough terrain.

»

Wears out within a few months.

»

Offers a limited range of styles.
Verdict
Gravity Defyers are designed specifically for people with foot-related issues like leg pain and fatigue. So, this GD is the best option if you are in search of athletic shoes that can relieve your knee and foot pain.
Another plus point for the Gravity Defyers is that you can buy these comfy yet functional shoes at an affordable price.
However, ample arch support and responsive cushioning are what you need most in a pair of Athletic shoes. And luckily, New Balances got both of them. 
So, if you need a performance pair of sneakers with great durability, New Balance is the one for you. Also, this pair is my personal pick among the two heavy-weight shoes.
FAQs
Are Gravity Defyer shoes good for your feet?
Gravity Defyer shoes are good for your feet as they feature specially designed midsole cushioning and orthotic insoles for better comfort. Also, the shoes are clinically proven to relieve foot and knee pain.
Are New Balance shoes good for standing all day?
With ample arch support and Freshfoam cushioning, New Balance shoe models like the NB 840v5 are very good even for standing all day.