Whether you prefer a comfortable indoor or outdoor stride, vintage Sanuk is a good choice.
Due to its antimicrobial additive footbed, you may guess that pairing socks with Sanuk is mandatory. Otherwise, skin rashes may arrive. But is that true enough, and what can happen if you go sockless?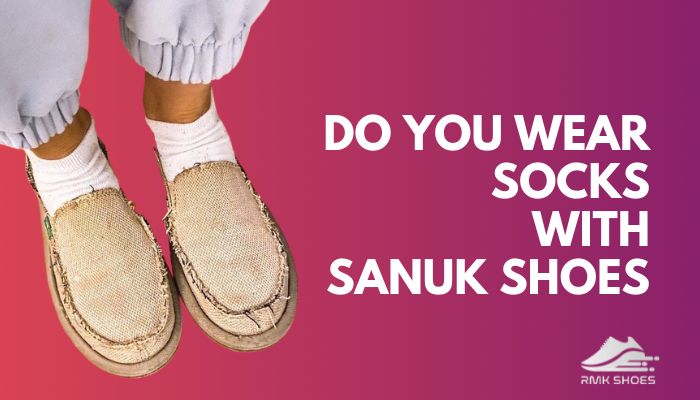 Well, the factors that go into wearing Sanuk shoes with socks are explained in this write-up.
So, let's dive into it & unwrap those points!
Can You Wear Sanuks with Socks?
Yes, you can wear Sanuks with socks to keep your feet warm and shielded. A pair of good-quality socks prevent feet from rubbing against the sturdy material and get rid of the smell by absorbing sweat. Moreover, the design of Sanuk shoes accommodates various types of socks.
Let's discuss a bit about Sanuk shoe's crafting material and its interior structure. Thus, you will easily realize whether you should combine them with socks or not.
Materials: The materials can be categorized into two parts: leather and non-leather. The non-leather group includes eco-conscious elements such as hemp, yoga mat, cotton, woven textile, and carpets. Recycled polyester and EVA are also part of this section.
More or less all of these components are breathable. On top of that, the antimicrobial additive is inserted in the footwear during the manufacture. This active agent acts as a suppressor of odor-generating microbes.
So, even if you skip socks, you will enjoy a comfortable and somewhat barefoot feeling with Sanuk. But putting on a pair of moisture-absorbent socks is preferable to reduce the chance of smelly feet to a minimum.
Sanuk's Interior: Soft, comfy, secure, and moderate support – Sanuk shoes offer all of these advantages.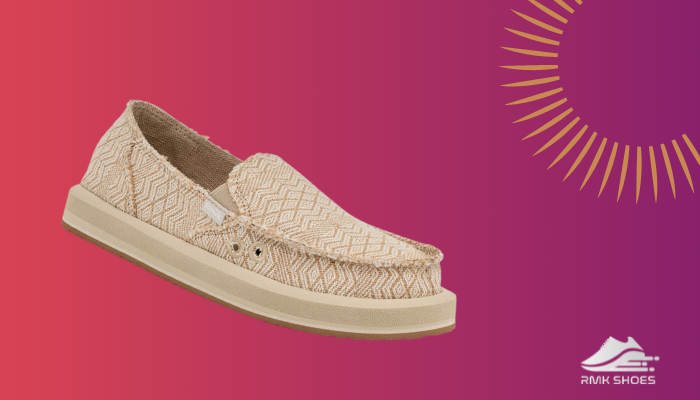 They are true to size and easy to wear. So, wearing them sockless usually doesn't lead to any foot infections.
But if you wanna add more comfort to the footwear, take help from socks. Additionally, it's unsafe to move ahead with shoes without socks. Going sockless will cause irritation, blister, and aches in some people, especially whose skin is sensitive.
So, I'll recommend styling your vibrant Sanuks with cushioned socks.
Now, let's jump into the next section and talk about some stylish socks that suit well to Sanuks.
Best Ways to Wear Sanuk Shoes with Socks
People wear socks with mules, so it doesn't matter if they are worn with attractive Sanuk. Below I have mentioned some socks. Pick any designs from this collection and get ready with the Sanuk shoes on.
Thin No-Show Socks
The pieces which I mostly prefer in the sunny season because they have excellent breathability. And it is found almost in every closet. It offers a cool appearance when wearing them with solid-colored Sanuk shoes, ankle-length jeans, and a white t-shirt.
The socks absorb sweat from the feet without hampering the outlook. Furthermore, it's pretty affordable. So when summer is in full swing, stay with no-show socks.
Merino Woolen Socks
Bittering cold strikes outside, but still, you wanna continue with your beloved Sanuk pair. Prior to that, just wrap your feet in foot-friendly merino wool socks. They are thick, fluffy yet breathable. Most of them have mid-calf length, which is quite beneficial for the winter times. Its dense layer acts as a barrier against freezing cold.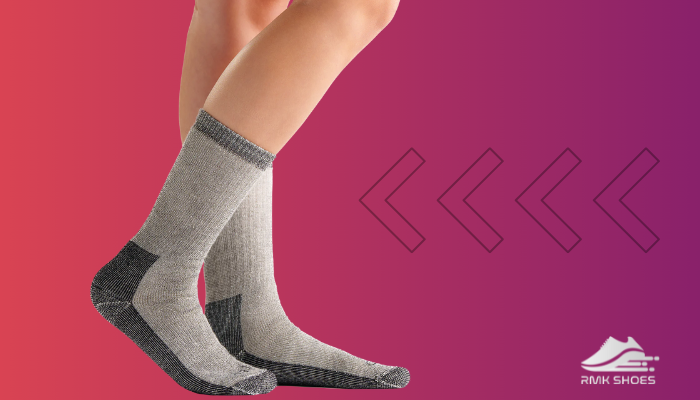 A good quality merino woolen crew sock provides stability and support at each step with its cushioned footbed. So, if you're thinking to buy this set, just grab them without delay.
Slip-on Paddings
Most people do not prefer socks with low-top boat shoes like Sanuk. For them, slip-on padding is a great solution. As it doesn't affect the outlook at all but comforts the feet, this item is known as a blessing in disguise.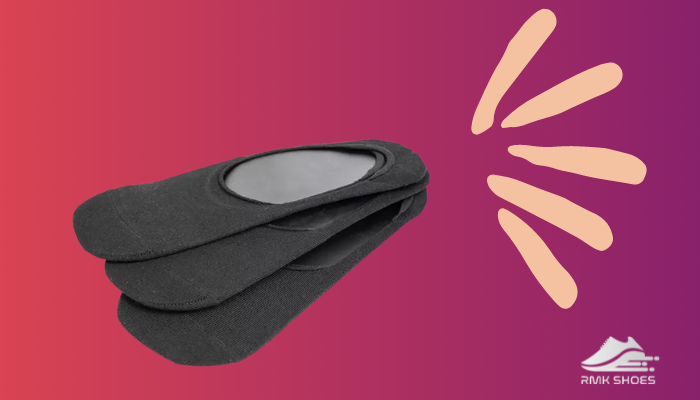 Though it doesn't demand a bunch of dollars as the Expensive Darn Tough socks, it delivers enough padding and breathability.
Why Do Shoes Stink without Socks?
When you wear shoes without socks, the sole soaks the perspiration. Along with the released sweat, odor-producing germs are also absorbed and grown in the shoe's insole. As a result, it gives rise to an irritating stink.
There are around 250,000 sweat glands in our feet. Through these glands, harmful ingredients get out of the human body. When you pair socks with shoes, the sweat gets absorbed in the socks. And if you wash them regularly, no unpleasant consequences of malodor will occur.
But the problem arises when you wear shoes that don't have the odor-preventing feature. Hence, the bacteria growth rate inside the sole increases, and malodor is released from the shoes.
So, it's always safe to wear shoes with socks, as it gets rid of bad smells. Plus, it adds another protective layer on users' feet.
But if you are adamant to go without socks, opt for the stink-preventing shoes and style them without any stinkiness.
Closing Thoughts
Whether you pair socks with Sanuk or not – it's totally up to your choice. The material of this shoe withstands bacteria and fungus. Thus, the chance of malodor is rare.
So, you can proceed sockless in the summer. But it is essential in winter to ensure adequate warmth.
If you have any queries about foot gears, let me know about them by commenting below.
Besides, enjoy steps around the city with well-cushioned Sanuk.