I've always loved the quality and comfort of my pair of Cole Haans. 
When I was looking for another pair of dress shoes for my cousin's wedding, my friend suggested Johnston Murphys.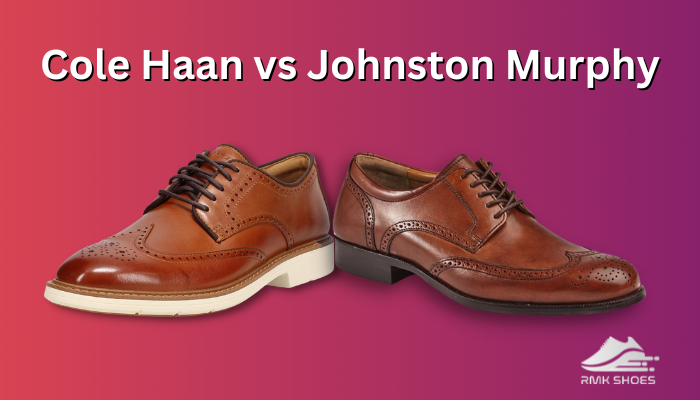 I hesitated at first, but after trying them out several times, I found the shoes kinda similar to Cole Haans, except for their quality, comfort, and durability. 
And in this article, I will share those findings along with my experience with both shoes.
So, buckle up and keep reading!
A Quick Overview of Cole Haan and Johnston Murphy
Cole Haan
Since 1928, Cole Haan has been offering shoes with contemporary designs and modern aesthetics, making them a popular choice for those seeking a balance between style and comfort. 
All of its products come with an effortless blending of fashion-forward elements with innovative technologies. 
Cole Haan's Grand OS technology, for example, provides exceptional cushioning and flexibility, enhancing the overall walking experience. Which is why they are still so popular today.
Johnston Murphy
Conversely, Johnston Murphy carries a richer heritage of over 150 years. This brand got its popularity from its products' classic elegance and traditional craftsmanship.
Their shoes exude timeless sophistication, featuring premium materials like full-grain leather and precise attention to detail. 
Johnston Murphy is a go-to brand for those who appreciate shoes with robust construction and long-lasting appeal.
Cole Haan vs Johnston Murphy: How Do They Compare?
The main difference between Cole Haan and Johnston Murphy is that Cole Haan is considered more luxurious. And the brand offers better quality materials and construction in its products. Apart from that, both brands carry a few more variations in comfort, material, and fittings.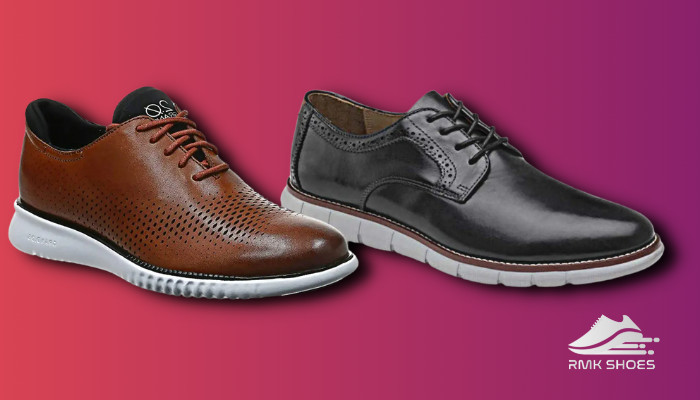 So let's find out how Cole Haan and Johnston Murphy shoes compare in their approaches:
Quality of Materials
Cole Haan uses premium full-grain leather in its shoes, which is far better in quality than the calfskin leather used in Johnston Murphy's. 
You can easily feel the supple and smoothness of the leather by just gently rubbing your hands over it. 
Plus, the shining appearance of the leather is uniform throughout the shoe, thanks to the quality construction of Cole Haan.
Comfort Level
While buying dress shoes, comfort is the main concern for many customers as most of the formal shoe brands don't offer enough cushioning.
Well, both Cole Haan and Johnston Murphy are exceptions to that, as their shoes are well-cushioned.
However, if compared, Johnston Murphys will be the winner here. 
That's because Murphys use a unique multi-layered cushioning system called Optima® for better comfort and support. Also, the toe has a perforated leather lining for improved breathability. 
However, the only flaw in Johnston Murphy's comfort is that it takes longer time for a proper break-in than the Haans. 
Conversely, my pair of Cole Haans felt stiffer only for a few days. After that period, I could wear them without any discomfort, even for the whole day. 
Traction and Grip
Both Johnston Murphy and Cole Haan have strong rubber outsoles, making them suitable for walking on hard outdoor surfaces.
However, they differ when it comes to traction and grip. The cupsole outsole of Cole Haans with reinforced traction provides a better grip.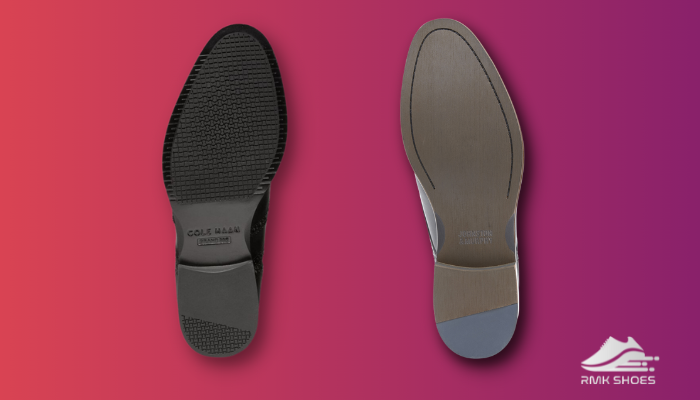 So whether you walk in your snowy yard or slippery grass grounds, this pair will ensure you don't slip.
Sizing and Fit
Johnston Murphy shoes fit true to size, so you can go with your regular shoe size with them. But as said by many users, Cole Haan shoes run small, and you may go half a size up with them for a better fit.
This is because the toe area of these shoes is a bit narrower than other dress shoe brands in the market. 
However, I bought my Cole Haans in my regular size, and they fit snugly but not so tightly to my slightly narrow feet. 
Meanwhile, Johnston Murphys features a wider overall design. So, if you have wide feet, Murphys are your best choice.
Longevity
Durability is a matter of great concern when you are investing in a pair of luxurious dress shoes such as Allen Edmonds, Johnston Murphy, and Cole Haan.
However, when it comes to the durability of Cole Haan and Johnston Murphy, both last quite long. This is due to the use of premium leather and Goodyear welt construction in their shoes.
However, as Cole Haan uses full-grain leather for the upper, their shoes are a bit more durable than the Murphys. Also, I found that Johnston Murphy's shows signs of creasing more quickly.
Expense Variation
When it comes to the price, Cole Haan will cost you more than the Johnston Murphys.
The price range for Cole Haan dress shoes is around $199 to $400. However, this high price is quite okay if you compare the price with the quality and value the shoes offer.
Conversely, a pair of Johnston Murphy dress shoes may cost you around $119 to $295.
So, if you are on a tight budget, Murphys may give you more affordable options in that case.
However, both brands offer some of their popular models at a discount price from time to time. So, you can just wait for that if you want.
What I Liked and Disliked About Cole Haan and Johnston Murphy Shoes?
Now you know all the key variations of these popular brands. To make your decision a lot easier, I'll now give you a list of what I liked about them and what I didn't.
Cole Haan
Pros
»

Very comfortable.

»

Better traction.

»

Top-quality leather.

»

Short break-in period.

»

Versatile and fashionable design.

»

Ages nicely.

»

More durable.
Cons
»

Less arch support.

»

Many models are not resolable.

»

Expensive.

»

Not suitable for wide feet.
Johnston Murphy
Pros
»

Innovative cushioning technique.

»

Extremely comfortable.

»

Wide toe design.

»

Affordable.
Cons
»

Creases out quickly.

»

Longer break-in time.

»

Less grippy outsole.

»

Few styles are available.
Verdict
Both brands offer fashionable and quality dress shoes without cutting your budget. 
Considering the quality and durability at a tolerable price, I think Cole Haan is far better than the Johnston Murphy shoes. From classy design to durable leather and construction, Cole Haan has everything you need in a pair of formal shoes. 
Overall, Cole Haan shoes are good enough for versatile use. And you can gracefully cover all your business meetings, friends' weddings, or formal night-outs with them.
Although if you are more considerate about comfort and budget, get a decent pair of Johnston Murphy. Also, the shoes come with a wider toe and will be the best choice if your feet are relatively bigger.
FAQs
Is Cole Haan Good Quality?
Yes, Cole Haan shoes offer good quality shoes made of premium full-grain leather with Goodyear welt construction.
Are Cole Haan and Johnston & Murphy Shoes Comfortable?
Yes, both Cole Haan and Johnston & Murphy Shoes are comfortable enough to stand all day. That's because both shoes have a flexible rubber outsole with ample cushioning in the midsole for better comfort.