Crocs play an ambivalent character in the ramp of modern fashion. Many people are mad for crocs; others just don't like them. I am on the second team.
You might get convinced by your croc lover friend to purchase a lined croc. If it does not suit you, there will be nothing to do but regret. In this case, you must have thought of removing the lining. But, there is a chance that you'll ruin your crocs in the process.
Well, I already made this mistake. So I asked myself, Can you actually take the lining out of crocs?
In this article, I will share my findings with you so that you can properly take care of your crocs.
So, hang tight till the end.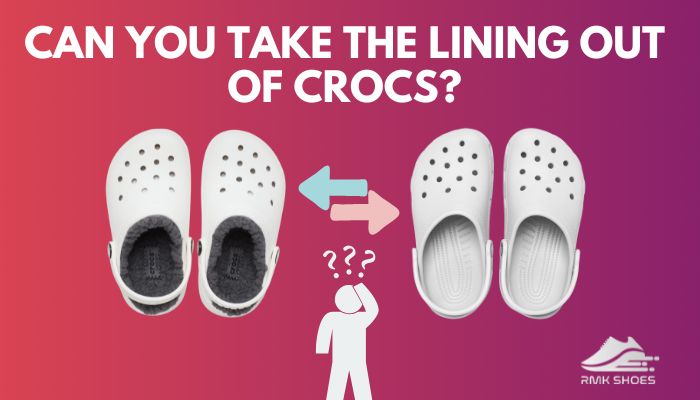 Can I Remove The Lining of Crocs?
Before you know the answer, you have to identify your crocs types. You must have heard about classic and baya crocs. The fur lining of both crocs is the same. Classic and Baya both have an unremovable lining. The lining was sewn with the crocs while built.
So it is not meant to be removable.
Mammoth crocs are a unique winter collection of crocs. The fur lining covers almost the ankle length. You will see a thick fleece fabric as the fur lining.
Now, You can remove the lining easily for the mammoth crocs because it is attached to the sole by a button. In typical crocs, that button is the same where the belt is attached.
How to remove the lining in crocs?
You might want the lining off from your pair when you want to survive the hot summer days with your fuzzy crocs. Moreover, if you no longer like the looks of your fur crocs or if you want to clean them, then you will need to remove the line.
I already explained which kind of crocs you can take the lining out of. If you have fixed-lined crocs, you should plan to get a new crocs pair without lining.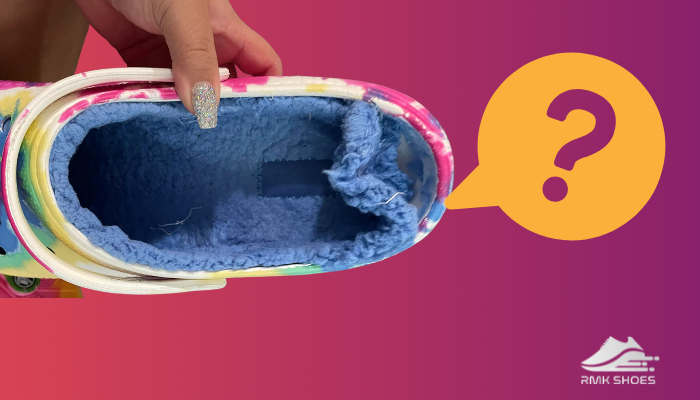 But if you are really fed up with the lining of your crocs, you can follow the method that I did for my crocs.
The lining makes my feet sweaty, and I cannot use them for long. So I took a risk on my own to remove the croc's lining. I took a knife and tried to cut the thread which appeared on the crocs.
Surprisingly, I was able to detach the lining from my crocs. And my crocs are still alive.
So if you have done with the lining, then you can do these hacks. If you are not convinced to do this with your own pair, then try this with your partner's pair. And believe me, it will work.
For the mammoth crocs or the removable ones, you should detach them carefully. You can follow some steps given below:
Disconnect the lining from the button.
Pull out this from the heel area.
Remove it gently from the shoes.
It will be as trouble-free as putting off a shirt button. Nevertheless, you should be careful with your old pair of mammoth crocs. Otherwise, it can be ruined.
Are The Liners in Winter Crocs Removable?
You may find crocs fashionable all year round. Crocs launched their winter collection, keeping people like you in mind.
The thick fuzzy liners of winter crocs are super comfortable and cold resistant. The extra fluffy winter crocs look gothic with soft and cozy fleece. You must love them for their cute appearance.
But after several uses, it will get dirty. Then you have to remove them to clean them. It seems removing the liner is the easiest way to clean it.
Winter crocs are basically known as mammoths. For the Mammoth line, you can detach the fleece liner. To remove the liner, you should pull it out carefully after removing the slit that fits around the side's rivets.
Winter mammoth looks vibrant with some funky jibbitz charm. You can create your style with a chunky mammoth adding jibbitz.
Can You Remove The Fleece Lining in Crocs?
Crocs with a fleece liner are much more comfortable than any other crocs. You may know that fleece lining adds comfort to any piece of clothing.
Fleece is made of sheep fur. Basically, it is a coat of sheep or goats. Crocs with fleece provide a warm cuddle to your feet.
But you can not remove your fleece lining from your crocs.
When they get dirty, you should use lukewarm water and mild soap. Gentle rubbing with the soap bubble will remove the strain and crap from your fleece crocs.
You should not use the washing machine to wash your fuzzy crocs. When you do this by mistake, it will ruin the fluffiness of the fleece material.
If you have already made such a blunder, there are some tips for you to get back the softness again. To read those tips, you can go through another article that is exactly about it.
How to Get Grass Stain Out of Lining Crocs?
After using it for a long while, you might have some grass stains on your crocs. This kind of mark you can not remove by normal washing or cleaning.
For your rubber crocs, the stain may give you tough trouble. Go for a normal wash with warm water and soap or washing liquid. If it works, that is good. When it is not enough, then try the following steps:
Use a cotton ball that is dipped in isopropyl alcohol. Rub your crocs with the ball. After that, wash them with water.
Smear vinegar to your crocs. Keep them for 30 minutes. After that, scrub with a toothbrush or shoe brush.
Use any shoe cleaner available in shops around you.
Apply toothpaste and toothbrush for scrubbing and remove the stains.
Above all, you should allow your crocs to dry properly. Keep them in the open air to get dry. The method of removing stains will be the same for normal and fuzzy crocs.
Can You Wear Lining Crocs in The Summer?
Lining crocs is soft and comfortable. For those who love to wear socks with their crocs, lining crocs are apparently for them.
If you are in the same tent, you can also use lining crocs in summer. For wearing lining crocs in summer, you have to be a croc lover who likes to wear them with socks.
The lining is not so thick, but some may find them warm. I have sweaty feet, so I don't prefer lining crocs in summer.
But it is over-sure that the mammoth crocs are not for summer. This line of crocs is only for winter use.
You can use liner crocs for summer if your feet allow you; otherwise, keep them for your winter outing. While you are going to any cold place for a tour in summer, you can wear your lining crocs than undoubtedly.
Can You Put Crocs in The Washing Machine?
Crocs' official website says not to keep crocs in washing machines.
You should not be rough with your crocs. From my personal experience, I will strictly enjoin you to put your fuzzy crocs into the washing machine. This will be the same for the lining, which is detachable.
The lining of crocs is made of soft fur, and it is stretchy. So it can be disfigured after a tight wash, which is special about washing machines. It will be troublesome to put it again into your crocs.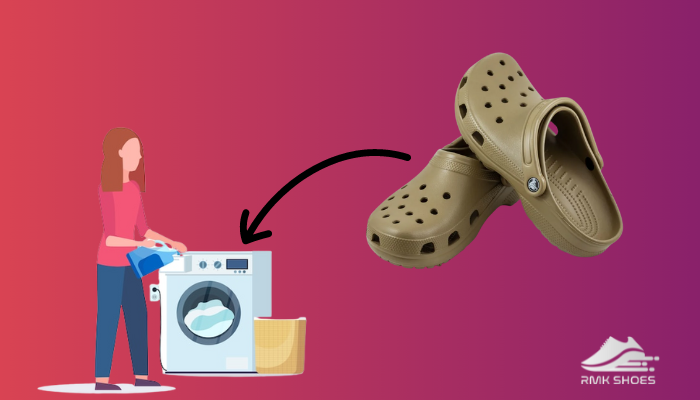 You should use mild soap or liquid and normal temperature water to clean your liner. Shock them for a while and then rub them gently. Clean it properly with normal water.
For the normal crocs cleaning, you should follow the same process.
Actually, crocs don't need any extra effort for cleaning. That's Why they are not for machine washing.
However, you might try a machine wash for your normal crocs but never do it for your lining crocs or for the liner.
If you want to shrink your liner, which is removable from the crocs, you can use a dryer to make them smaller. You can also use the natural high sunlight to make your line small.
Verdict
To sum up, I must say that taking the lining out of crocs mostly depends on the model which you get.
For some lining crocs, it may allow you to remove the liner, but this type of crocs is not available in the market now. But the new mammoth crocs sometimes have a removable liner. Normal fleece crocs are not for detaching liners.
So the best solution is to get two pairs of crocs for winter and summer. For winter use, you should pick fuzzy crocs, and for summer, you should choose normal crocs.
When you are on a budget, then try some brave steps like mine.
Comment below and let me know about your own way if you already remove your liner from the crocs.