In everyone's closet, several pairs of shoes are always lying around. They get so worn out at some point that you start rethinking about them.
If a pair is unusable, it doesn't mean that throwing them out is the only way around. The concept of recycling them and again making them useful is getting popular over the years.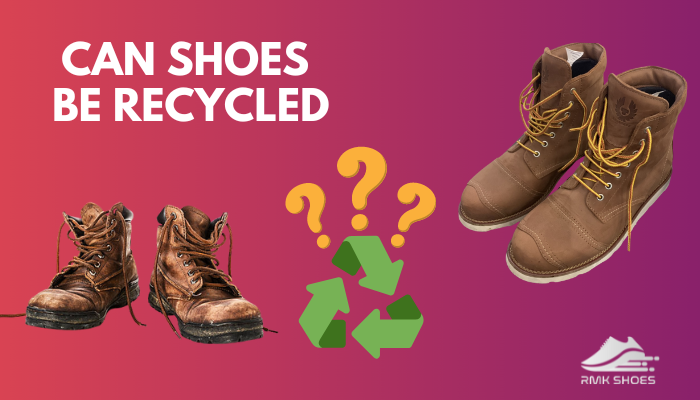 Getting rid of a favorite pair of shoes can be emotionally draining.
So, if you can keep them in another form and still make use out of them is a win in both situations.
After reading this article, I hope you'll know everything about the recycling process of shoes and sandals.
There will be no more confusion if you read till the end.
Can You Recycle Shoes?
Yes, shoes can be recycled and reused in another form. Over the years, shoe recycling has become quite a popular concept for shoe lovers, as they can repurpose their favorite pairs.
After using it for several years, your shoes lose their life and sit in your closet for as long as you convince yourself to throw them away.
Sometimes it's hard to throw them away, so recycling is the best alternative.
Over the years, people have been recycling shoes, and when that was not enough, several organizations came forward and introduced programs to speed up the process.
The bad news is even though you can salvage old shoes, you can't recycle them in every local recycling program. Sometimes you need to send them far to get them recycled, which can be costly.
Still, it's a relief that you don't have to pile up old shoes anymore. Instead, you can actually turn them into something useful.
When Should You Throw Away Old Shoes?
The durability of a shoe can depend on several causes like weight, height, how often it is used and so on. And there are different pairs for a specific need.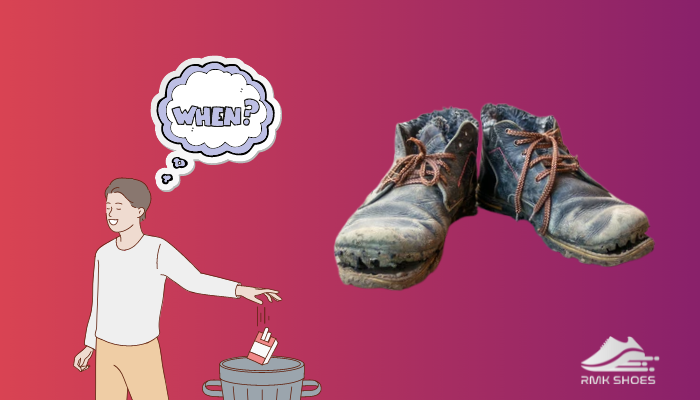 A good branded shoe comes with a lifetime warranty.
And their longevity is beyond question if you think of Muck Boots, Bogs, Doc Martens, Oxfords, and much more.
If your shoes are rotten inside, they'll smell awful. If the sole is irreplaceable and there is no other way to save it from getting destroyed, that is when you can throw them.
Another fact is if you have a pair lying around that is very ill-fitted and hurts when you walk, that is another indication to get rid of them.
How to Recycle Your Old Shoes? 5 Sustainable Methods
The concept of recycling shoes is not new.
But, as the demand for repurposing them is becoming a crying need, new methods are made to speed up the process.
Previously people used to recycle their shoes on their own. But, now, that is not possible. Even recycling companies are finding it hard due to excessive pressure.
Let's see the details of the shoe recycling process:
DIY Projects
Shoes are like friends you can rely on but not forever. They will eventually come to the point of unusable shoes.
At that point, you can keep it in another form. That's when your artistic skill comes in handy.
The most common way to start your DIY project is to turn your shoes into a vase for plants. You can add rocks at the bottom to help it stand still.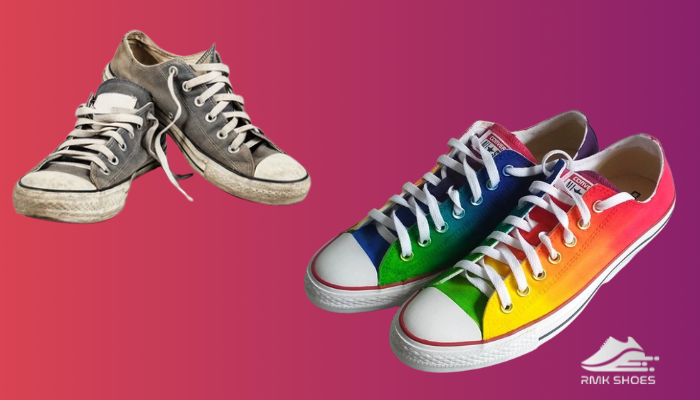 For this type of project, succulent plants are the best options.
Painting old pairs is another way to DIY it. After painting, you can use it as a decorative piece.
Painting old shoes and hanging them over power lines is now trending as an art form.
To know more about these shoes over power lines, you can check out my article – Why Do People Throw Shoes on Power Lines?
Repair Old Shoes
The shoe-repairing industry is dying eventually. You must have seen that the number of cobblers around your neighborhood is declining.
Even though the cobblers are still providing their service, they are busier than ever. And they charge more than before.
If you can invest in a good pair of shoes, you can repair them, and they will last long. It saves a lot of money too.
According to The Shoe Service Institute of America, a good pair of men's shoes can be resoled 7 to 10 times, while women's shoes are resolvable over 5 times.
Donating
There is always a pair of shoes in your closet, you don't wear much, and the condition is good enough. In this case, donating is the best option.
Just give them a good wash; they are a treasure for someone in need.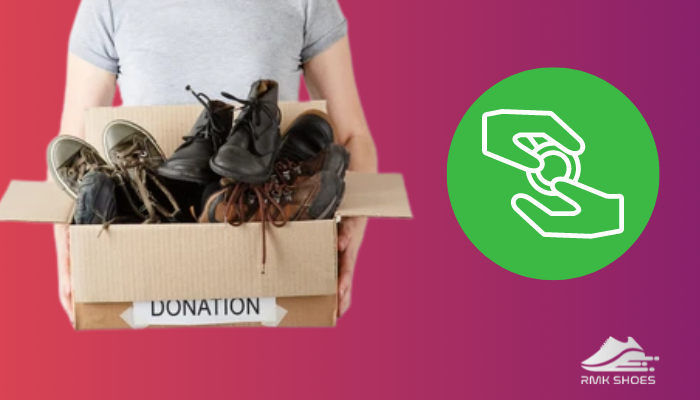 There are several organizations out there to help with the donation process. Shoe Bank Canada accepts all types and sized shoes; they maintain standard donations along with a shoe drive process.
They give your shoes to someone who will appreciate them more than you did. And the best part is you can see the impact you are leaving through their website.
Reselling
Reselling old pairs is also a part of recycling. You may have several pairs of shoes in your collection that you don't use anymore.
I have a phobia of collecting shoes that match my outfits.
And for that reason, I have specific pairs I have worn one or two times, and that's it. And eventually, they got cluttered, and I sold them in the end.
If you are like me, there are so many other platforms online where you can sell your shoes. There you will even find categories like heavy used, new, worn for a month and so on.
You can choose from the option that matches your category. That way, it becomes easy for buyers to find their specific needs.
Upcycling
If recycling is not an option for you, try upcycling your unused pairs. There are shoes in my collection with torn lace. I bought a few new pairs of lace, and my sneakers are good as new.
Resoling is also another way to jazz up an old pair. There are shoe repair companies that help to make your shoes reusable.
If you are into arts and crafts, you can repurpose them again without paying a penny.
Can You Use Sustainable Shoes?
Yes, you can try using sustainable shoe options. It may bring variation to your footwear collection.
You can join the sustainability trend just by using eco-friendly shoes. There are sustainable sneakers that you can wear to help the environment.
There are also vegan options to choose from, and these are eco-friendly. For example, Doc Martens have launched their vegan versions to help the environment and vegan customers.
What Kind Of Shoes Can Be Recycled?
Generally, you can recycle any kind of shoes through several procedures. There are various ways to do so. You can do it yourself, and if not, there are even organizations to help you.
Nike has an eco-friendly program to recycle sneakers only. If you have a pair in the house, you are in luck. But for other types of shoes, there are programs too.
For example, Terracycle is well known for recycling all kinds of shoes. All you have to do is find their drop-off location, and they will take care of the rest.
So, find what type of shoes you have to throw away, and you can choose any kind of program to recycle.
Does Goodwill Recycle Shoes? Shoe Recycling Programmes
They normally take gently used shoes and prepare them to sell them at a bargaining price. You can donate your slightly used shoes to Goodwill.
Goodwill is known for their reselling process, and shoes are one of the few items they allow to resell in its thrift stores.
If your shoes are too worn out, you can recycle them. There are companies out there to help you with this problem. They turn these unusable shoes into playgrounds and football fields.
Let's see what these companies are doing with your old pairs:
American Textile Recycling Service
American Textile Recycling Service is clothing recycle bin service. They also work with shoes made of cloth.
If you have worn-out cloth-made shoes that go away, just find the bin of this service and drop off yours.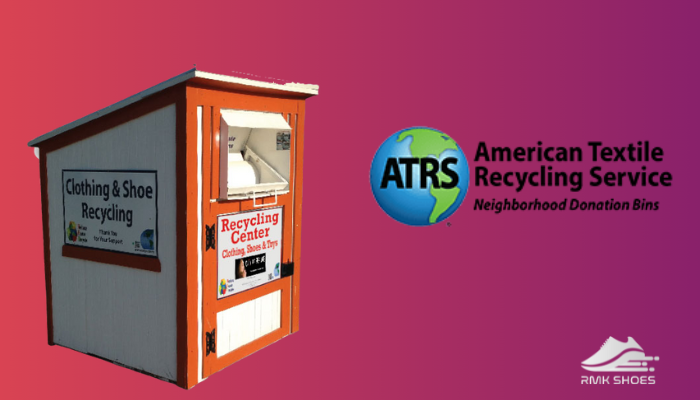 Runners Roost
Runners Roost is a local program in Colorado. This organization collects old shoes to help poor homeless people.
Through this service, they collect worn-out shoes and recycle them into playgrounds and tracks.
They have their specific locations where you can leave your shoes and be tension free.
Got Sneakers
Got Sneakers is a recycling organization specializing in sneakers. Their main work is sending sneakers to places where shoes are not available.
People and organizations are paid for every shoe through sneaker drive fundraisers.
Their main goal is to collect and donate gently used shoes; they recycle those shoes that are totally unusable.
There are also other organizations and programs like Terracycle, Soles4Souls, and many others to recycle your pair and give them a new form and life.
Can You Recycle Old Boots?
The use of boots on a daily basis is increasing as various brands are offering boots for work, for heavy duty and casual wear.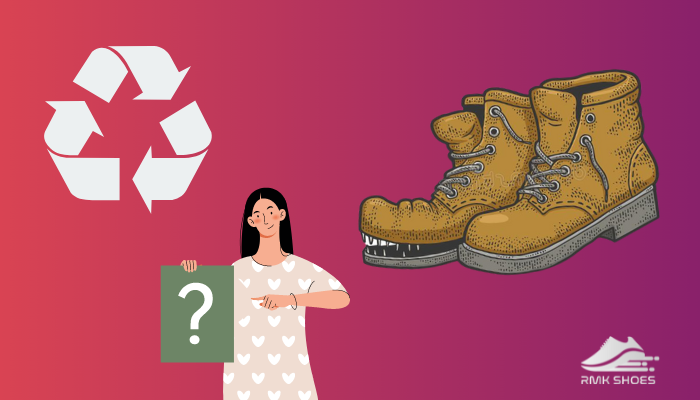 Yes, you can recycle your boots. To recycle boots, you can turn them into an art piece by turning them into planters; you can paint them as a decorative objects.
As boots are now in the category of daily footwear, the purchase amount is rising. For hikers, boots are a must. And these need to be changed after every 500 to 600 miles.
In 2019, 20,000 pairs of shoes will be used, possibly by hikers alone. So, you can imagine the number of disposal boots may cause.
There are also a couple of organizations that collect old boots and recycle them into something new. That way, the quantity of shoe garbage is not expanding.
How To Recycle Sneakers?
You must know that sneakers are the most popular type of footwear. The amount of production is massive every year.
It is evident that these shoes will create way more waste.
However, running shoes, sneakers and athletic shoes have certain materials that are used again to make yoga mats, carpets and even backpacks.
You can sell your old sneakers online; donating is another option. Another excellent way is to go through sneaker fundraising drives, where people gather and collect old pairs for good causes.
If you are creative enough, you can create art from them. Some people paint their old sneakers and hang them as an art form. So, if you are an artist, go for it.
The Destructive Impact Of Shoe Waste On The Environment
Nowadays, shoe waste is creating a massive number of non-degradable waste that is gradually becoming another reason for environmental pollution.
The footwear industry is creating way more waste and toxic chemicals that you can't imagine.
During the manufacturing process, a huge amount of carbon dioxide gets emitted, which is responsible for 1.4% of GHG emissions. A pair of sneakers emits 30 pounds of carbon dioxide, which can keep a 100- watt light bulb on for a week.
These shoes are made from petroleum-derived plastic materials, which are toxic.
And from plastic materials, I meant PVC, EVA, PET and so on, which is not the best option for a pollution-free environment.
A regular pair of shoes can sit on the landfill for 20 to 25 years just to start degrading, but honestly, they take over 80 years, not to mention the harm their remains will be to water, air and soil.
You have the power in your hands to change the environment. Instead of using shoes made from chemicals, use eco-friendly ones.
Your little contribution can have a significant impact on the environment.
Verdict
It's not possible to spend our daily life barefoot. You must wear sandals or shoes to protect your feet and a pair for every occasion. The shoe industry has expanded over the decades and is still spreading at its own rate.
As the necessity to wear shoes increases, the number of unusable shoes will amp up.
In this case, recycling is the best option to save our environment and the clutter it creates along the way. I hope that this article was helpful in providing you with the necessary information about the shoe recycling process.
If you have any previous experience of recycling or reusing old shoes, do share your experience and tips in the comment section below.