Both Brooks Revel and Trace are good options as affordable running shoes, offering great levels of comfort, support, and durability. And you may get confused between them while purchasing for the first time.
As a fellow runner, I had the chance to try these two Brooks trainers. And while wearing it, I found their unique features and benefits, which I'll share with you in this article.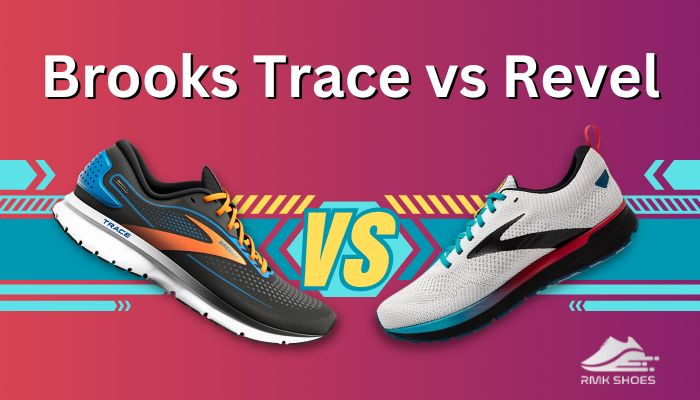 Also, I'll be breaking down their pros and cons to ease your work. 
So, stay put!
Short Overview of Brooks Revel and Trace Shoes
Brooks is a century-old brand that has been offering good quality shoes since its beginning in 1914. However, they stepped into the world of running sneakers for the very first time in the early 70s. 
Since then, Brooks has introduced many innovative and advanced technologies for the utter benefit of runners.
Trace is one of the performance sneakers of Brooks's cushioned lineup. This sneaker features Brooks's innovative BioMogo DNA midsole and Crash Padded outsole.
Every version of Trace is so popular among joggers and runners as it gives a responsive ride with ample support. And the fact that the shoe's mesh upper is so breathable you can run with them without worrying about getting sweaty feet.
The Revel is another neutral road-running sneaker version of the Brooks. It has a similar cushioning system as the Trace but with a slightly softer feel.
The knit upper will provide you with a snug and comfortable fit while allowing for breathability. However, Revel's biodegradable outsole made it so popular among the eco concerned runners.
What's the Difference Between Brooks Trace and Revel?
The major difference between Brooks Revel and Trace is in their outsole design and upper material. Whereas Trace has a more responsive crash-padded outsole than the Revel. But in terms of upper, Revel is made with recycled and biodegradable materials, but Trace is not.
Other than upper and material variations, these two Brooks trainers have a few more feature variations that you should consider to pick the right one.
So, let's find out the key differences between Brooks Trace and Revel:
1. Variation in Material
Through Revel versions, Brooks has covered its intention of making shoes with less waste and a more refined look. As this running sneaker features a 51% to 59% recycled knit upper with a biodegradable silica outsole.
I totally love the eco-friendly approach of Brooks Revel shoes. But the best thing about the upper is that it's very breathable and adds a plush look to the sneaker.
On the other hand, Trace shoes don't come with a recycled upper. However, breathable and lightweight material is what you need in running gear as a long-mileage runner. And luckily, the engineered mesh upper of Trace trainers will benefit you with both features.
2. Cushioning and Support
Both Trace and Revel are well cushioned as they feature the innovative BioMogo DNA technology in the midsole. And both shoes will adapt well to your stride while running through changing terrain.
However, I found that the cushioning and support of Trace are slightly better due to the extra 2 mm heel-to-toe drop than the Revel. So, Trace will be a better choice if you have a history of a leg injury or Achilles heel.
3. Performance Variation
Whether it's Brooks Ghost 11 or 12, when it comes to the performance, Brooks's running gear isn't that much of a difference. 
The same goes for Brooks Revel and Trace. Both have an adaptive and lightweight midsole which, without any doubt, will give you a stress-free ride.
Yet they differ very slightly in flexibility and impact absorptivity. With the divided crash pad outsole design with an extra cushioned midsole, Trace shoes offer more flexibility and ground impact while running.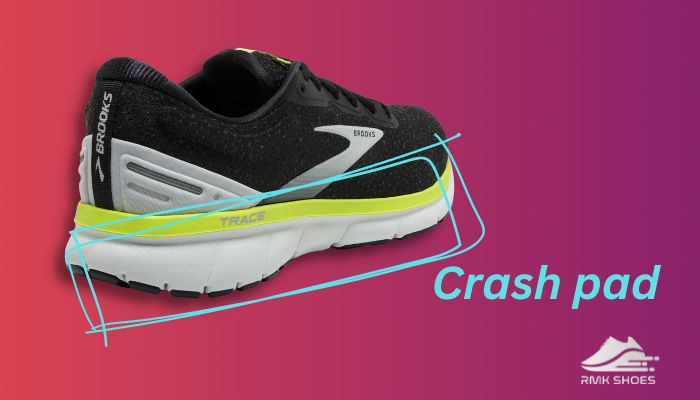 So, if you are looking for a lightweight sneaker with soft cushioning for everyday use, go with the Trace Brooks.
Meanwhile, Revel comes with a springy green rubber outsole that is more suitable if you need decent running shoes with firm cushioning.
4. Size and Fit
Both Trace and Revel run true to size, so you can go with your regular sneaker size, and the shoes will fit you perfectly.
Despite their TTS nature firsthand, they fit differently. Trace is a bit narrower around the forefoot. So it won't be a good option if you have wide feet as they may feel tighter around the toe.
Revel is kinda superior when it comes to fit as it is comparatively wider. You will feel relaxed in this pair if you have average feet like me. At the same time, the wider toe is suitable for runners with larger feet as well.
5. Overall Design
Personally, I like Revel's design more, as it gives my outfit a plush and sleeker look. And its design is more versatile. Hence, from tracks to the streets, you can wear them everywhere.
Another plus point to the Revel pair is the added pull-on heel strip that you won't find in the Traces. This added pull tab is useful for busy athletes who need shoes that are easier to put on. 
Furthermore, the tongue of Revel is longer and more padded than the Trace one.
6. Comfort
As both shoes offer a flexible upper and cushioned midsole, they are quite similar in terms of comfort. They are so comfy that you can even wear these running shoes every day.
However, in my experience, Trace is a bit more lightweight than the Revel due to their soft cushioning. And the mesh upper of this pair is more breathable than the recycled upper of Revels.
Another downside I found in Revel is that the stiff heel lining rubs my ankle while running, which is pretty discomforting.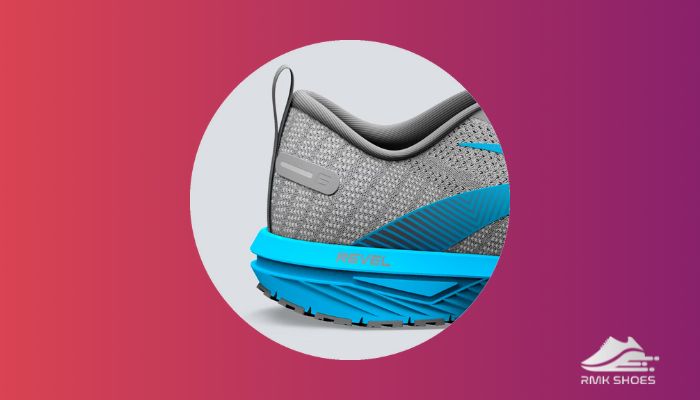 Meanwhile, the Trace features an extra soft elastic heel lining. So your ankle won't get hurt with this pair, no matter how long you run on them.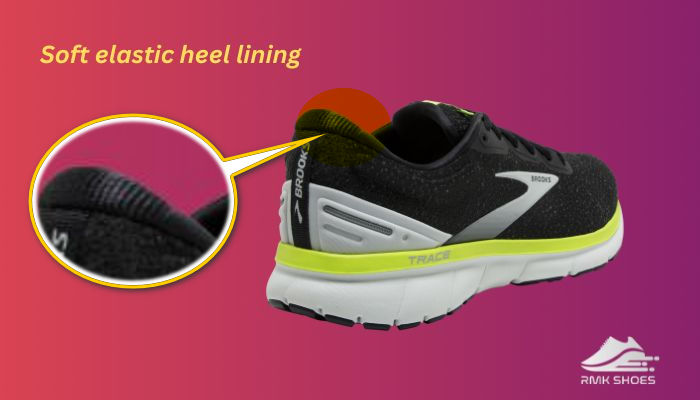 Overall, Trace and Revel are unique in their own way and have distinctive beneficial approaches. And you should consider their unique features to make the better choice.
Pros and Cons of Brooks Trace and Revel
Knowing each and every detail of a model is crucial to make a perfect choice while buying running gear. That's why in this segment, I'm gonna list all the benefits and drawbacks of both Brooks trainers.
Here're the pros and cons offered by Brooks Trace and Revel:
Brooks Trace
Pros
»

Breathable mesh upper.

»

Adaptive BioMogo cushioning.

»

More flexible upper and outsole.

»

Better arch support.

»

Suitable for injured feet.

»

Quick off-the-ground impact.
Cons
»

Narrow toe design.

»

Not suitable for wide feet.
Brooks Revel
Pros
»

Eco-friendly material.

»

Wider design.

»

More versatile and plush look.

»

Better ankle support with added DNA foam in the heel.

»

Easy to wear design.
Cons
»

Slightly heavier in weight.

»

Firm cushioning.
Which One To Choose Between Brooks Trace and Revel?
As an affordable running pair with great features, Trace and Revel are well worth it. Then which one to choose?
To make the best choice, take a look at the following points:
Trace is better off as a breathable and lightweight sneaker that you can use for both running and exercising. Also, the crash padding in the outsole makes them more impactful on the running tracks. 
So if you are more into flexible sneakers that hug your feet while running, Trace will be the one for you. 
Meanwhile, if you struggle to find a comfortable running pair due to your comparatively larger feet, Revel is the one for you. Along with the wider fit, this trainer has a firm cushioning and grippy outsole.
Moreover, Revel has a more easy-to-wear design, so it will be more suitable for busy runners.
Ultimately, the choice depends on your liking and requirement. But I hope these facts will ease your decision-making process.
Goodbye Thoughts
Both shoes offer excellent comfort, support, and durability for road running. 
However, the Revel may be a better fit for those who prefer a firmer ride, while the Trace may be better for a softer ride and a more snug fit.
Hopefully, after considering all the provided facts, you can now pick the right running pair of Brook for your next ride.
It's time to say goodbye now, but if you got further queries, write them in the comment section.