As a loyal fan of the Revel, I felt kinda annoyed seeing people fussing over the Ghost sneakers, yet I got curious.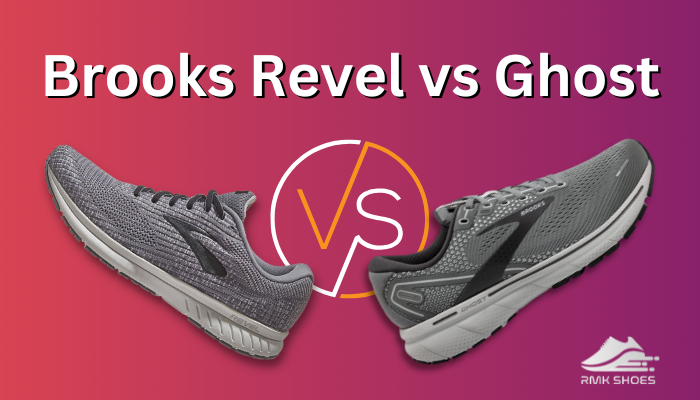 However, I recently had the chance to finally try out some of the Ghost styles. They seemed quite similar, but I found a few notable differences. And in some cases, the Ghosts were even better.
In this article, I will share all those key findings so that you can buy your perfect one between Brooks Revel and Ghost.
So, read on!
What is the Difference Between the Brooks Revel and Ghost?
Both Ghost and Revel offer exceptional cushioning and reliable performance, yet they carry a few distinctive features. Revels are so designed to offer a quick off-the-ground and springy running feel. Conversely, Ghosts are more of a daily trainer with soft and supportive cushioning.
Whatever their differences are, you should know all of them to make the right choice.
So, let's find out the key difference between the Brooks Revel and Ghost:
1. Midsole Material
The Brooks Revel and Ghost sneakers mainly differ in their midsole material and cushioning technology.
The Revels provide a springy and comfortable ride with their adaptable BioMoGo DNA. Conversely, the Ghosts feature DNA loft midsoles which are slightly softer and lighter than the BioMoGos.
So, the Ghosts offer better comfort and a softer running experience. But Revels are superior in responsiveness and quick energy return.
2. Breathability
Both Revel and Ghost shoes come with breathable upper materials. So both will keep your feet dry while you are taking a long run.
However, the air mesh upper of the Ghosts does slightly better than the knit upper of Revels when it comes to breathability.
It's not like the Revels' upper is not breathable. Both did well enough in keeping my feet sweat-free throughout my summer runs. It's just the Ghosts did a better job.
3. Better Performance
How the sneakers will perform depends on which condition you are using them.
The Revels have a springy and comparatively thinner outsole. That's why they do well in short-distance running, where you need to pump up your stride. And these Brooks are good for hiking as well.
Meanwhile, for running a marathon, you need comfy shoes with tons of cushioning to prevent your feet from fatigue or other injuries. And the soft and superior-cushioned Ghosts perform best in such long-distance running.
4. Comfort and Support
Both Revel and Ghost shoes offer great cushioning and arch support.
However, the Ghosts provide more arch support than the Revels with the soft, squishy, and adaptable DNA foam. Plus, the 12 mm heel drop in the Ghosts provides better shock absorption than the 8 mm heel drop of the Revels.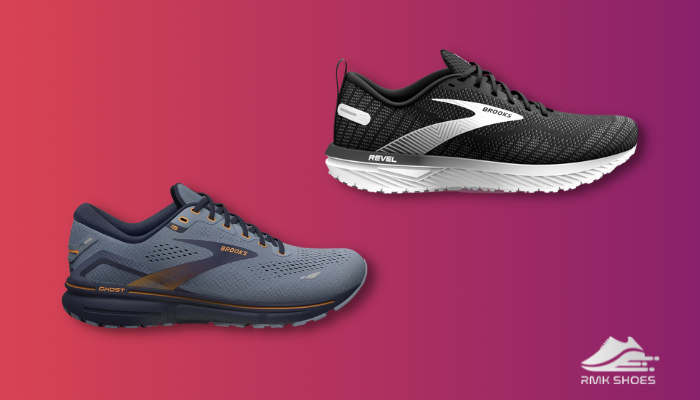 So, in my opinion, Ghosts are the way better option when you want a supportive running pair with tons of cushioning.
However, Revels also has some extra benefits to offer in terms of comfort.
For instance, as shoes can cause ankle pain, most Revel versions feature a padded ankle and a gusseted tongue to protect you from that.
Side on, due to their lack of cushioning, Revels are also lighter in weight compared to the Ghosts.
5. Cost Difference
Although both Brooks sneakers fall in the mid-price range, Ghosts are comparatively pricier than the Revels. This can be due to the advanced technology and much more cushioning the Ghosts are designed with.
However, the price for a Revel pair ranges from $69 to $100. Meanwhile, a pair of Brooks Ghosts may cost you around $100 to $140.
So, if you are on a tight budget but want a performance running pair, the Revels will be better for you.
6. Sizes Available
Both Revel and Ghost shoes offer different shoe sizes from 5-15 for both men and women.
However, one drawback of the Revel shoes is that they are only available in regular medium sizes. So if you have wide feet, you may not find your perfect width from Revels.
Meanwhile, Ghosts offer a range of widths from narrow to extra-wide shoes for both genders.
Pros and Cons of Brooks Revel and Ghost Shoes
Even though both Revel and Ghost sneakers come from the same brand, they have their unique benefits with a few downsides.
Here are the pros and cons of Brooks Revel and Ghost:
Brooks Ghost
Pros
»

A perfect balance of cushioning and flexibility.

»

Comfortable for long runs.

»

Better arch support.

»

More durable.

»

Offers a range of shoe widths.

»

Excellent breathability.

»

Crash-padded grippy outsole.
Cons
»

Slightly pricier.

»

Comparatively heavy in weight.
Brooks Revel
Pros
»

Responsive and stringy outsole.

»

Versatile design.

»

Padded ankle.

»

Better support with Gusseted tongue.

»

Affordable.
Cons
»

Lack of arch support.

»

Less breathable upper.

»

Available only in regular widths.
Verdict
Both Brooks Revel and Ghost offer versatile and functional trainers for daily runs, workouts, or running errands.
Considering its cushioning, comfort, and durability, I would say Ghost is the winner here.
They don't have a highly responsive outsole like the Revels. Other than that, in Ghosts, you will find all the features required in a do-it-all running shoe.
Plus, Ghosts are best suited for long slow-paced runs, thanks to the right amount of softness and support they have. So, whether you only walk through the trails or run a marathon, this pair will be your best partner.
On the other hand, as Revels are comfy, supportive, and especially highly responsive shoes, they are better suited for short-distance running.
Also, they come at an affordable price, which definitely is a plus point here. So, go with the Revels to get a budget-friendly, high-performance running shoe.
FAQs
What are Brooks Revel Used for?
Brooks Revels are used for high-paced runners needing a springy, responsive running pair. Also, the versatile knit upper makes it suitable for fashionable or casual uses as well.
Are Brooks Ghost Good for Standing All Day?
Brooks Ghosts are good for walking or standing all day, even on hard surfaces. A soft-cushioned midsole and breathable upper are crucial requirements for such use. And you will get all those features in a pair of Ghosts.