At first glance, Blundstone 510 and 550 look incredibly similar, and you may get confused about finding the better choice.
For me, 510 Blunnies held up incredibly well for the last 3 years. But, I was eager to see how my recent 550 boots compare to my old faithful.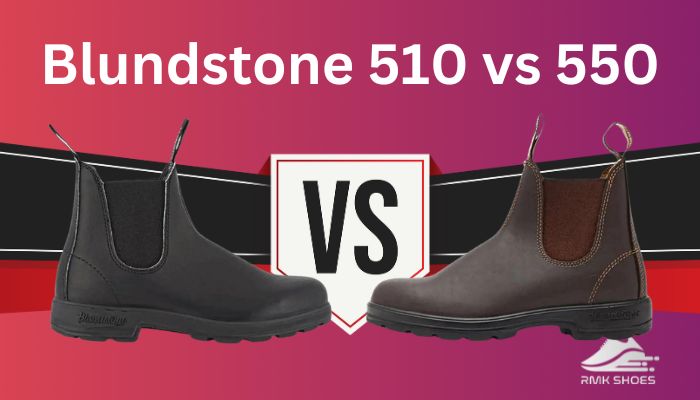 After spending some time with both pairs, I discovered they are actually different in some aspects.
And here, I'm gonna enlighten these aspects to ease your decision.
So, stay along!
A Quick Overview of Blundstone 510 and 550
Blundstone has been producing comfortable and durable work boots for more than a century.
Released in 1969, Blundstone 510 is one of their original Chelsea styles. The boots got quickly popular among workers and miners due to their rugged durability and slip-resistant outsole.
However, Blundstone has come up with several updates to its original versions to cope with the quickly evolving fashion world.
In the early 2000s, Blundstone introduced 550 as one of the updated versions of their original Chelsea style. Apart from the excellent durability, this boot offers a more refined and fashion-forward look.
What is the Difference Between Blundstone 510 and 550?
Both 510 and classic 550 feature Blundstones' signature style and design. Yet they have some fine dissimilarities in features. Both carry the original Blundstone Chelsea style but 550 features more modern construction. They also vary in terms of material, design, and price.
So, the features differences between the Blundstone 510 and 550 are:
1. Material and Construction
When it comes to the material, both Blundstone 510 and 550 are made of genuine aniline leather. And It is hard to notice any difference in the material.
However, the main variation is in their construction. The classic 550 has a leather lining around the shaft with added pull-traps.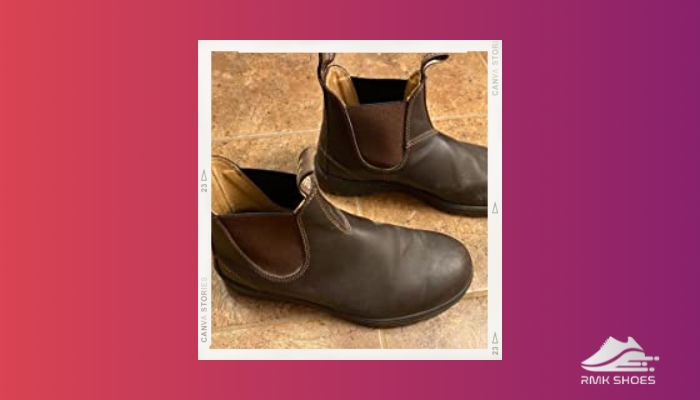 Conversely, the 510 has only elastic pull straps without any leather lining at the closure. Both have elastic closures for easy slip-on, yet I found the closure of 550 is more stretchable than that of 510.
Another difference is that the shaft of the classic 550 is slightly higher and narrower. And that's why this pair fits snugly while securing your feet for the long day.
 Note: As both Blundstone 510 and 550 are made of genuine aniline leather, the upper may crease out if you don't take proper care of them.
2. Insole
Blundstones are extremely comfortable as they use SPS max cushioning system in the boots. With this special cushioning, I got a comfy experience from both my 510 and 550 pairs, even on uneven grounds.
Meanwhile, the classic 550 provides better shock absorption with the latest XRD® Technology in their footbed.
This high-density foam heel pad fights against fatigue and protects your feet from getting blisters.
3. Outsole
Both Blundstone models feature a sturdy TPU outsole with great traction. This tough rubber outsole is harder to crumble, but it can break down if you store them unused for a long time.
Even though both Blundstones share similar outsole materials, their tread patterns are slightly different. And for me, the classic 550 was a bit more grippy on rough surfaces.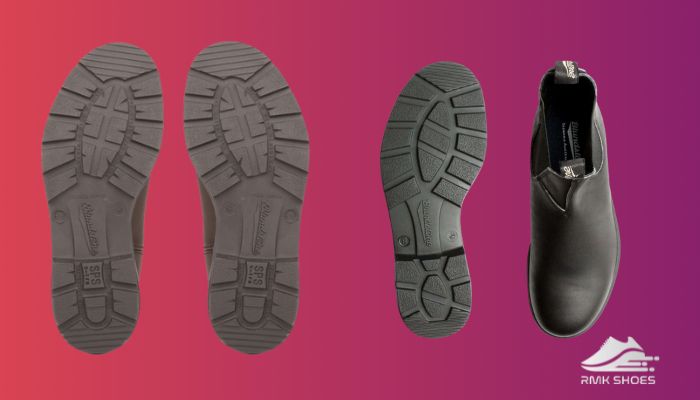 Another thing that I've noticed in them is that the outsole of the 550 is much thicker, which adds more durability to this boot. As you know, because of the cemented construction of Blundstone, you can not resole or replace them.
So the thick TPU in the classic 550 is a plus point here, as it will wear out less quickly than the thin-soled 510.
4. Price
Due to the excellent craftsmanship and use of premium materials, most Blundstone boots are quite pricey, and so are the classic 550 and 510.
Meanwhile, they only have a $10 difference when it comes to the price. Because for a pair of Blundstone 510, you have to pay $209.95. Conversely, you can get the classic 550s at a price of $219.95.
Considering the updated features, extra padding, and durability of the classic 550, I think it's a much better choice for the extra 10 bucks.
5. Size and Fit
For me, both Blundstone 510 and 550 fit true to size, meaning I went with my regular US size 10 for both of them.
However, they fit differently due to their difference in construction. The 550 fits more tightly as its heel area, and the shaft is a bit narrow. But trust me, still, they will fit perfectly to your feet.
Plus, this snug fitting is quite helpful when you wanna use them for rough activities like hiking. Yet, if you prefer a relaxed fit, go half a size up than your regular size with the classic 550.
Meanwhile, both Blundstones were a bit tough on my Insteps when I first put them on. This is because they need time to break in.
And after a couple of weeks, when the leather was fully stretched, the shoes fit even more smoothly to my legs.
Overall, both Blundstone 510 and 550 are great quality boots and perfect for all weather. Yet they have some unique differences which you should consider before making the purchase.
Pros and Cons of Blundstone 510 and 550
Whether it's Ariat or Blundstone, all boots come with a few drawbacks. And the Blundstone 510 and 550 are no exception, as they also have some disadvantages along with great benefits.
Both boots are quite expensive. And you should know every detail of them before making such a huge investment in a pair.
So, let's find out the pros and cons of Blundstone 510 and 550:
Blundstone 510
Pros
»

Chrome-tanned genuine leather.

»

Removable footbed.

»

More breathable.

»

Relaxed and secured fit.

»

Light-weight
Cons
»

Lack of arch support.

»

The outsole wears out faster.
Blundstone 550
Pros
»

Excellent cushioning with extra SPS.

»

Leather-lined shaft.

»

Fits more securely.

»

Extra arch support with padded heel.

»

More durable outsole.

»

Removable footbed.

»

Sleeker design.
Cons
»

Not suitable for wide feet.

»

Needs time for a proper break-in.
Which One Should You Buy Between the Blundstone 510 and 550?
Both Blundstone 510 and 550 are comfortable, durable, and cushioned enough for light to extensive use.
But if you want a light pair of boots that you can wear daily, even in warm weather, the 510 would be the best fit. Because this boot is quite breathable as it doesn't have any interior leather lining. Also, this pair of boots are much lighter to carry for the whole day.
Conversely, the classic 550 is more suitable for long adventures or hiking with the extra arch support and a sturdy outsole. And for just an extra $10, this pair offers you more durability, support, and a fashionable look.
So, if you love adventures and want a fashionable pair of boots, the classic 550 is ideal for you.
FAQs
Are Blundstone 510s Waterproof?
Yes, Blundstone 510s are waterproof as they use water-resistant leather to make the boots. However, due to the cemented sole construction, it may not be so great at keeping the water away.
Is Blundstones Bad for Your Feet?
Blundstones are not bad but actually good for your feet. That's because most of its shoes have ample cushioning with extra padding.
What is the Difference Between Blundstone 510 and 500?
Blundstone 510 and 500 are pretty much the same in their features, with slight differences. The main difference between them is that the 510 is made of waterproof leather, but the original 500 is not.
Final Words
Just like the original Chelsea blunnies, Blundstone 510 makes a great pair of work boots that you can wear casually as well.
Meanwhile, with the upgraded facets, the classic 550 suits adventure and fashion lovers best.
Hopefully, this detailed comparison will make your shopping hassle-free.
Yet, if you wanna know more, comment down below!