Classic crocs, crocs bistro, crocs baya, crocs literide- feeling confused by hearing so many versions of crocs?
I was also in a mess like you because all the crocs seemed identical to me. And I bought crocs baya instead of the classic one.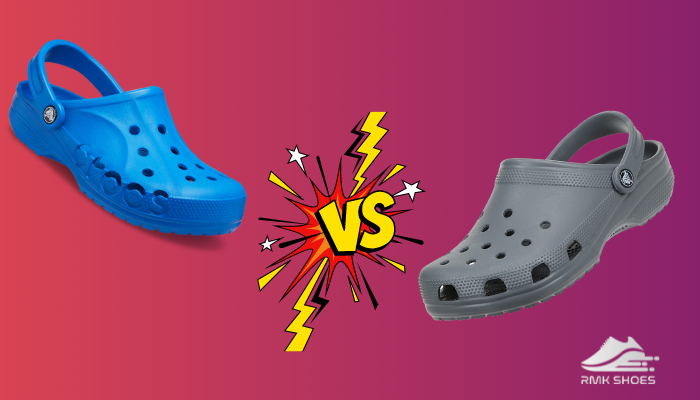 I thought of providing precise info about crocs baya and classic to you. So, you can pay for the crocs you actually want. I used both of them to find out their differences and noted them here.
Let's find out how crocs, baya and classic differ from each other.
Avoid skipping any part of this article if you want to become a pro identifier of crocs classic and baya.
Why Are Crocs so Popular?
65 million crocs were sold worldwide in 2019. Isn't it surprising?
You must be wondering why crocs became so popular that it made a huge sale only in a year. Well, let me explain the facts behind it.
Crocs became popular for their tons of user-friendly features. Their iconic design with proper air ventilation characteristics created a storm in the fashion world.
Apart from these, crocs possess versatility, comfort, good material and excellent soles. They are actually very lightweight. Most crocs are slip-resistant.
All of these features fade without their tricky marketing strategy.
Many people tagged crocs as ugly footwear. As a result, crocs were unable to maintain a successful business in the footwear industry.
Then it focused on promoting its brand. It collaborated with famous musicians, fashion enthusiasts, rappers and top-rated fast food industry such as KFC.
Well-known celebrities appeared in the crowd wearing crocs. This strategy truly influenced the general people. They started to follow the trend. And that's how crocs became popular with its standard features.
When COVID-19 spreaded worldwide in 2020, thousands of crocs were freely distributed among the healthcare heroes.
Your eyes will easily get stuck on the variation of crocs. You may find it interesting or ugly because the structure of crocs is quite different from other ordinary footwear.
Nowadays, crocs are trendy. People, including me, choose crocs to wear to the beach, casual meetups or in class.
Baya Crocs vs. Classic Crocs: How Are They Different?
Different kinds of crocs are available in the market. I already told you that I bought a pair of baya crocs in place of a classic. At first, I was in a gloomy face. Then I started to wear baya crocs.
And truly speaking, I was pleased with those pairs, which made me buy more pairs of baya crocs.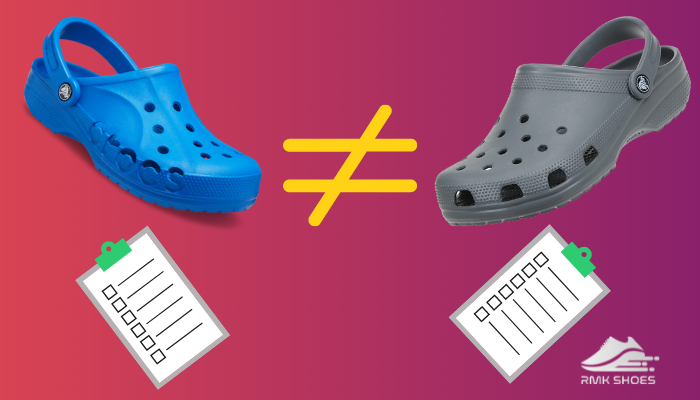 Now, Let's take an in-depth look at how they are different.
Here're the differences between baya crocs and classic crocs at a glance:
Design
How to identify baya and classic crocs instantly?
By taking a closer look at these two pieces of footwear. Baya crocs and classic crocs differ in design.
The design includes the number, shape and arrangement of holes in the crocs. Both crocs have a total of thirteen holes on the upper and side.
The arrangement of holes is different in these crocs. In classic, holes are in random order. On the contrary, the holes maintain a particular and straight layout in the baya crocs.
Moreover, the word 'CROCS' is mentioned on the side of all baya crocs. And you can easily identify baya crocs by looking at that word.
Weight
Both crocs are lightweight. To compare the weight of two crocs, I used to wear both of them while running.
I found that baya crocs are foamy and lightweight compared to classic crocs. It's because the sole material of baya crocs are more fluffy. It is soft and comfortable to wear.
Ventilation
I already mentioned that classic crocs and baya crocs hold thirteen holes. Even so, I found baya crocs more breathable.
Usually, I go for a walk near the beach on the weekend. I used to wear classic crocs at that time. But when I started to wear baya crocs, I found it dries out more quickly than the classic ones.
I found classic crocs more comfortable in summer. My feet didn't sweat, and it felt airy. Because these crocs have holes both on the sides and top. It ensures more airflow and easy moisture removal.
Sizing
The size of footwear is another reason for comfort. The sizing of classic crocs is related to its color variation. The brand offers different sizes for different colors. I needed size 11 party pink classic crocs.
But they didn't have that particular size. That's why I failed to buy my favorite pairs.
I found classic crocs are true to size. It provided me with a relaxed fit. On the other hand, the baya crocs are a little bit bigger than the exact size. It assured me of a roomy fit. It's suitable for wide feet.
Both crocs have straps. And I always adjust my strap for exact fitting.
Slip-resistant
Not all baya and classic crocs are slip-resistant. Only the shoes that feature CrocsLock tread are able to protect you from slippery surfaces. Note that slip-resistant isn't purely slip-proof.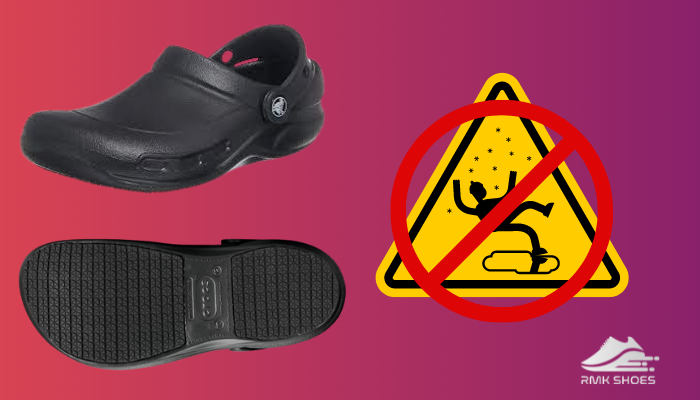 The baya crocs that I used to wear were slip-resistant. That doesn't mean that your baya crocs will also be non-slip.
My lemon-colored classic crocs weren't slip-resistant and it was clearly mentioned in the product guide. Most of the classic crocs don't possess the slip-resistant property.
So, you have to take an attentive look at the specifications of the crocs before buying.
Arch Support
Baya crocs ensure cushioning with lightweight Croslite material. Its footbed is quite supportive. The contour on the sides provides more comfort. I wore baya crocs and worked standing in my lab for about 4-5 hours.
My feet didn't ache a little, and I got amazing arch support at the bottom of my feet.
The arch support of the classic crocs is also sufficient. Its footbed is also made with smooth Croslite. But I'm more satisfied with baya crocs arch support.
Color Options
Generally, crocs are available in bright colors. You will find more than twenty color combinations of classic crocs.
Lavender, black, blue, yellow, brown, and orange are the colors that I own.
Baya crocs don't offer huge color combinations like classic crocs. They are available only in ten colors. But you won't get all these colors available for all of the models.
What Are The Similarities Between These Two Crocs?
Till now, I've noted differences between the two crocs. Both crocs have a few similarities.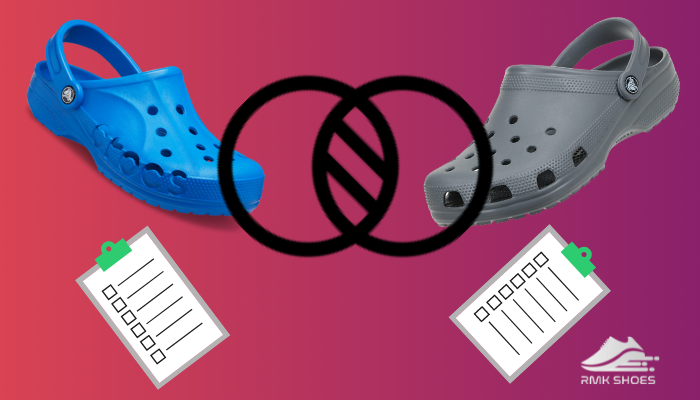 Here're the similarities between baya and classic crocs:
Mode
You can wear both crocs in two modes.
When the strap is on the upside- it's called relax mode. You will get easy wear in this mode because the mode ensures quick in inside the crocs and quick out of your feet outside.
When you adjust the strap near the ankle area, then it's the beast mode. It's more secure. There's no chance of slipping off the crocs from your feet in this mode.
Durable
Crocs are made of Croslite or levirex. It's a kind of foam resin material that contains EVA. That's why crocs offer elasticity. And it can't absorb water.
The Croslite material of crocs is of excellent quality. That's why it's really durable and comfortable.
My mineral blue colored baya crocs lasted for 6 years. Even though I used those pairs on a regular basis, they provided a good grip.
The pairs of classic crocs are also long-lasting, like baya crocs.
Price
Crocs are affordable. The price depends on the size and model. But you will see that most of the classic and baya crocs' prices are almost similar.
I bought mineral blue baya crocs and a lavender classic. Each of those pairs retails for $49.99.
Baya vs. Classic Crocs: Which Is Suitable To Wear All Day Long?
Crocs are made with Croslite material. The footbed is highly cushioned and smooth. It's lightweight and arch supportive.
Both baya crocs and classic crocs are worthy of wearing all day long.
If you're looking for my personal opinion, I'll vote for baya crocs. It gives me a pleasant feeling all day long. I feel relaxed with the pairs of baya crocs when I go to take groceries, or near the beach, to the university for an exam.
I voted for baya crocs. But that doesn't mean that classic crocs are indecent. They are also good to wear all day long. But baya crocs are the best to me.
Surgeons also suggest wearing crocs. Even they wear it during their long duty hours because it's comfortable and friendly for feet.
Moreover, it's easy to clean and dry crocs.
Which One Should You Get: Baya or Classic?
Looking for a new pair of crocs?
If you have wide feet and you prefer a roomy fit, then you should choose the baya crocs. But if you love to wear bright colors, then classic crocs collections are a good option for you.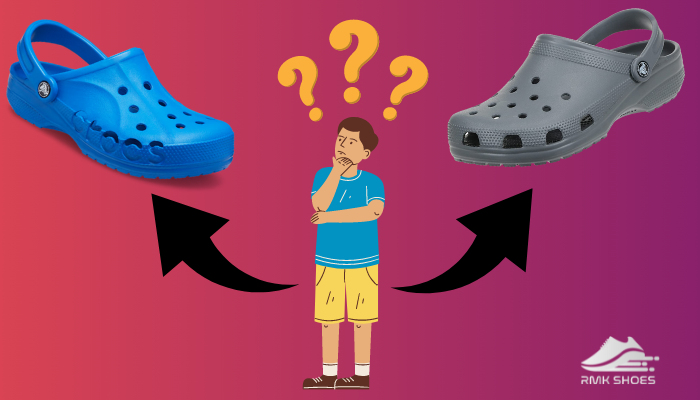 If you want that your footwear holds the 'CROCKS' word on the side, then you should go for baya crocs.
I customized my crocs with a lot of jibbitz. 'Be the change' jibbitz is my favorite which I bought for $3.49. And the addition of jibbitz increased the charm of my crocs.
Crocs are casual wear. I won't suggest wearing crocs in your university presentation or in viva. It's also not suitable for your job interview.
It's completely based on your preference on which one you should get.
You can wear crocs for casual meetings. But it's not a good choice to wear crocs while dating your girlfriend!
FAQ
Can You Insert Jibbitz in Baya Crocs?
Baya Crocs are customizable with Jibbitz. The holes on the upper of the crocs are the place where jibbitz are inserted. A lot of charming jibbitz are available to make crocs more fashionable.
Why Do Surgeons Prefer Crocs?
Most of the surgeons and nurses wear crocs. Because it's simple to clean, slip-resistant and lightweight. Another reason for choosing crocs is that they are comfortable, non-absorbent to liquid and arch aiding.
Closing Thoughts
Crocs are trendy wear at present. People may call it ugly. But if you find comfort in this. That's all you should care about.
I packed all the information about baya and classic crocs in this article.
Now, don't forget to share with me which crocs you will buy and experience with crocs.
Have a good day!