When it comes to comfortable and versatile tennis kicks, Asics Gel Challenger 13 and Gel Resolution 8 are hard to pass. And as a tennis lover, I do enjoy my Challenger 13 shoes.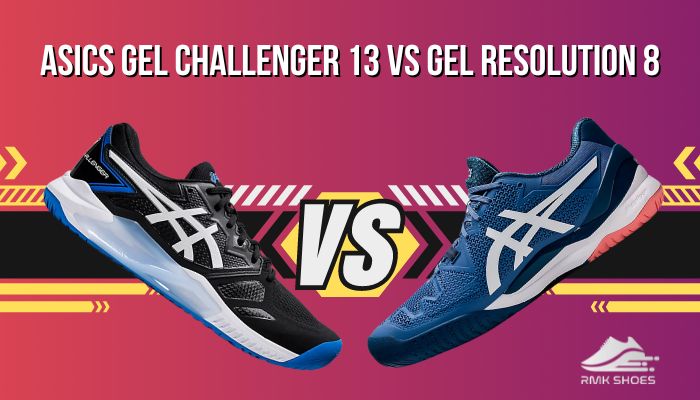 But most of my opponents prefer the Gel Resolution 8. And I have seen these shoes differ in several factors.
In this article, I will highlight those differences and advantages. So, keep reading till the end.
A Short Overview: Asics Resolution 8 and Gel Challenger 13
Asics Gel Resolution 8 came to market in 2008, and in such a short period, this high-performance shoe became the best-selling tennis shoe.
This comfortable shoe gives proper arch support during the game, and your toe and heel section stay protected because of the PGUARD™ toe protector. So, you can say this model ensures safety for sure.
Also, Gel Resolution 8 is a stylish pair with a simple silhouette and many color options. You will get enough responses for quick movements.
Moreover, on their eighth iteration, Asics collaborated with Frenchman Gal Monfils, and thus we witnessed many variations and alternatives as well.
Now, let's move on to Asics's other popular model, Asics Gel Challenger 13.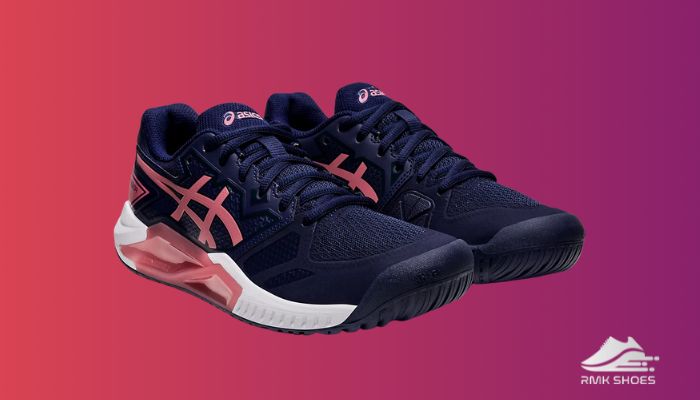 This model is another versatile and comfy tennis shoe that rocks the tennis court gracefully. You can rely on Gel Challenger 13 for smooth movements without restrictions.
From beginners to intermediate players, this model is a great option.
Gel Challenger 3 is also known for its stability when covering the baseline through their WINGWALL™ technology. The upper keeps your feet locked and lets you focus on the opponent.
More on the topic, do you ever wonder why sneakers are called tennis shoes? The answer is interesting enough.
Key Difference Among Asics Gel Challenger 13 and Resolution 8
Even though both Gel Resolution 8 and Gel Challenger 13 from Asics are tennis shoes, they are not the same and have different features and benefits. To get a better understanding, you must know them all.
Let's find out the dissimilarities between Asics Gel Challenger 13 & Resolution 8:
Features
The first thing you notice and should know about any tennis shoe is the building materials and features they offer. Because everyone's playing style is different, and you should select yours depending pair on how you want your sneakers to be.
The main features of Asics Gel Challenger 13 shoes are:
Sockliner Ortholite.
Pguard toe guard.
Ahar Plus outsole.
Midsole with Solytetm.
Geltm technology in the forefoot area for proper cushioning.
All these ensure you are comfortable at the most serious time. Also, Gel Resolution 8 comes with excellent highlighting properties. These shoes come with Dynawrap constructions, making them ideal for the tennis court.
There are many other features on Gel Resolution 8 that won the heart of tennis legends which are:
Flexion Fit upper.
Ahar outer soles.
Gel technology for forefoot and rear areas.
PU mesh uppers.
Dynawall technology.
Every material and technology used in Gel Resolution 8 makes them so comfy, lightweight, and easy to wear.
Cushioning and Support
The important fact about any sportswear is its support and cushioning.
Gel Challenger 13 has super cushioning and support due to the Flytefoam technology. And for Gel Resolution 8, the source is Flytefoam midsole technology, but it has added a full-length gel cushioning system, which you won't find in Challenger 13.
Another supporting factor in Resolution 8 is their heel counter which is more supportive compared to other models.
One common feature in both shoes is their full-length durable rubber-made outsole for traction and support.
The most interesting part is the perfect blend of all these features makes Gel Resolution so flexible. But the Gel Challenger is slightly more sturdy.
Design
Now let's talk about the beautiful appearance and design of these two most popular Asics tennis shoes.
Gel Resolution 8 shoes have excellent designs and color patterns. The brand chooses bright colors to boost the confidence of its wearers.
During our last match, my friend wore the red one with black soles and lacing, and she matched her outfit. I could see the confidence in her eyes, and to my surprise, she beat me after a long time.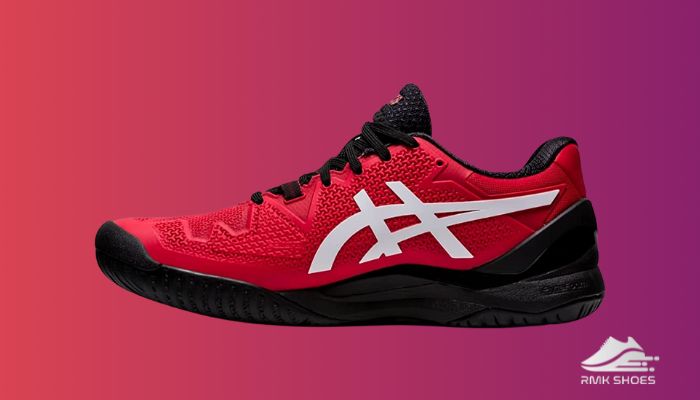 On the other hand, I wore my Gel Challenger 13, the classic white one. And I love mine, but at that time I was thinking of getting a new colorful one.
Weight and Fit
The fitting and weight is another crucial factor when getting your tennis shoes. You can also use the pair for running if you choose carefully.
Asics Gel Resolution 8 shoe weighs 413 g and the weight is evenly distributed throughout the whole shoe. That's why you can move freely in these comfy shoes. Also, it fits wide, medium, and small feet quite easily.
But for some users, it will take time to break in.
Meanwhile, Gel Challenger 13 is made to be lightweight and is 391.2 g. So, it's clear that this model is lighter than Resolution.
And Challenger 13 is true to size. You don't need to size up or down. Even these shoes are comfy from the beginning and require no break-in time. If you want to be sure about their size, you should check out the differences in sizing between Nike and Asics.
Price
Asics Gel Challenger 13 costs around $94.95 to $99.95. The range changes from one website to another. And if you purchase from retailers, you must pay a few extra bucks.
On the contrary, Gel Resolution 8 sneakers range from $99.95 to $140, which is clearly more expensive than Challenger 13 shoes.
Pros and Cons of Asics Resolution 8 and Gel Challenger 13
When you know all the positive and negative features of the shoes you want to buy, choosing and getting the best out of the pairs becomes easier. It also helps to maintain them properly.
Let's check out the advantages and obstacles of Gel Resolution 8 & Challenger 13:
Resolution 8
Pros
»

Properly cushioned.

»

Durable.

»

Breathable upper.

»

Lightweight.

»

Flexible.

»

Variety of colors and designs.

»

Robust.
Cons
»

Restricted toe box.

»

Expensive.

»

Lacks arch support.

»

Less breathable.

»

Takes time to break in.
Gel Challenger 13
Pros
»

Excellent traction.

»

Good stability.

»

Lightweight.

»

Provides support and cushioning.

»

Fits perfectly.

»

Good quality shoelace.
Cons
»

Narrow toe box.

»

Less breathable.

»

High price.

»

Limited color options.
Verdict
If you want the latest technology-infused, comfortable, and colorful pair, Gel Resolution 8 is your ideal one. But keep in mind the weight and price point.
And, if you are on a budget and looking for a simple and classy lightweight tennis shoe, you will be comfortable in a pair of Gel Challenger 13.
When it comes to Asics tennis shoes, you need to think clearly before your purchase.
However, each pair has its own individuality. So, whichever pair you buy, it's a win-win situation.
Wrap Up
Both Gel Challenger 13 and Resolution 8 are amazing shoes with good quality materials, mesh and breathable uppers, and a simple yet versatile appearance.
And the most important fact is that they are comfortable and provide enough stability for your movements. I have told you all those points where they differ and their advantages so that you can pick your ideal tennis kicks.
If you have further queries, let me know in the comment section.