The toe box becomes a big concern whenever we think of buying work boots from Ariat. Because it is the part that ensures the forefoot's safety at the workplace.
Ariat's toe caps have three categories: carbon toe, composite toe, and steel toe.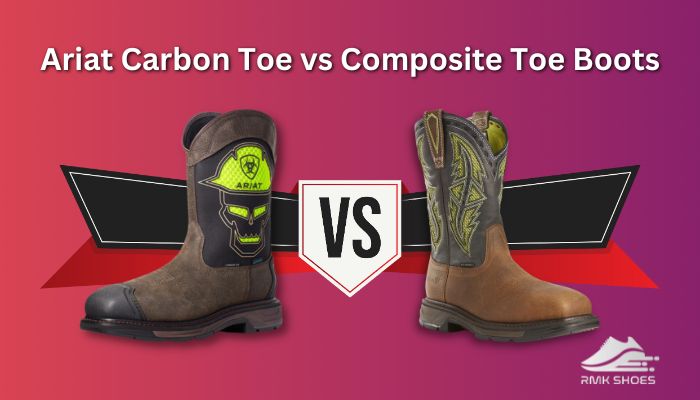 Since Steel-toe boots are somewhat heavier, most buyers are now leaning towards composite and carbon-toe boots. In this write-up, I'll highlight the features and differences between these two types of boots.
It will help you to select the most suitable one for yourself. So, let's get into it!
Differences Between Ariat's Carbon Toe vs Composite Toe
Element, price, weight, and comfort are the main factors that differ between Ariat's carbon toe and composite toe box. Now, go through the following sections, where I have discussed these terms in detail.
1. Material
The primary difference between carbon toe and composite caps is their core material.
From the name, you probably have guessed that Carbon fiber (not carbon nanofiber) is the main element of carbon toe. It is non-metallic and firm in nature but gives flexibility when mixed with other chemicals.
As a result, the manufacturers mix the required amount of chemical substance in the below portion of the toe cap. Because it remains in touch with the feet thus, wearers can work in relax without any kind of stiffness.
However, the exterior side remains rigid to ensure safety i.e. benefits from both sides.
The amalgamation of carbon fiber, kevlar, and fiberglass builds a composite toe. These ingredients are combined together by Nanotechnology.
Perhaps, you are unknown to Kevlar. I was also unfamiliar with this component when I first heard about it. This heat-resistant para-aramid fiber has plenty of contributions in making bulletproof vests, body armor, and protective toe shields. Furthermore, it's strength helps the composite toe boot to bear tons of weight.
2. Comfort
I decided to wear Big Rig Waterproof Composite Toe & WorkHog XT Cottonwood Carbon Toe during my gardening chores. By doing this, I was able to test the boots' comfort.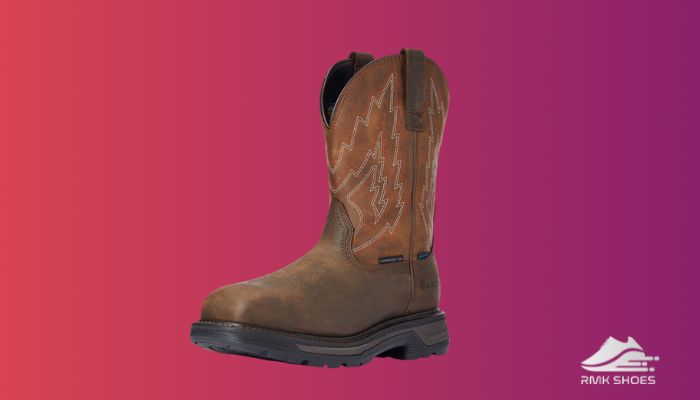 While roaming in the garden, the carbon-made boot appeared more comfortable to me due to its inner pliability.
This boot's slight weight feature and sleek interior make the movement more easygoing.
On the other hand, the composite-toe pair seemed comparatively heavier and rigid. So, I think the Carbon toe boot is the most capable one for delivering ultimate comfort.
However, both boots non-metallic components defended me from insect bites and sharp hand pruner.
3. Durability
Actually, I purchased highly anticipated Ariat boots a few months ago. And I hope they will last for several years, truly speaking for decades.
Because the stuff used to make these boots are of the finest quality and wrapped with modern technologies. That's why Ariat tags expensive prices on its safety work boots.
To get a clear concept of Carbon and composite-toed longevity, I talked with a couple of Site Engineers. According to their statement, the carbon toe Ariat boot lasts several months longer than the composite toe, even after regular use for site visits.
In fact, proper maintenance offers 5 to 10 years of lifespan to an authentic Ariat boot, whether it is composite or carbon toe. So, no one is the direct champion in this term.
4. Price
Ariat's Carbon toe boots cost range is $90 to $295. As the price increases, product quality, and inserted technology get richer.
For instance, WorkHog XT BOA Waterproof Carbon Toe is now the most expensive piece. It contains ATS® Max technology to decrease pressure, an anti-fatigue insole, and waterproof DRYShield™ technology,
On the other hand, the lowest-priced one i.e. Rebar Flex 6″ Carbon Toe Work Boot, includes only 4LR™ tech for cushion & support.
The composite toe boot of Ariat is more expensive than its carbon toe. It ranges from $135 to $325. This extra price is for adding advanced technology and providing a luxury vibe to the feet.
Advantages & Disadvantages of Carbon Toe and Composite Toe Ariat Boots
Still could not make a decision between carbon toe and composite toe boots?
Doesn't matter. Just take a look at the key benefits and disadvantages of each design. The similarities are also mentioned in this section besides the signature features. Hence, it will definitely divert you to select one of these two competitor boots.
Here are the advantages and downsides of Ariat's Carbon Toe and Composite Toe:
Ariat Carbon Toe Boots
Pros
»

Electrical Hazard Protection.

»

Heat & Cold resistant.

»

Lighter than a steel toe.

»

Waterproof.

»

Tremendously long-lasting.

»

Superb arch support.

»

Highly comfortable.

»

Slip-resistant.
Cons
»

The boots are expensive; consequently, they are out of reach for construction workers or laborers working in a risky environment for very little wages.
Ariat Composite Toe Boots
Pros
»

Ideal for extreme weather conditions.

»

Keep safe against electrical danger.

»

Acts as a barrier against water.

»

Durable.

»

Arch supportive.

»

Slip preventive.
Cons
»

More costly.

»

Uncomfortable compared to Carbon toe.

»

Relatively heavy.
Carbon Toe vs Composite Toe Ariat: Which is Better?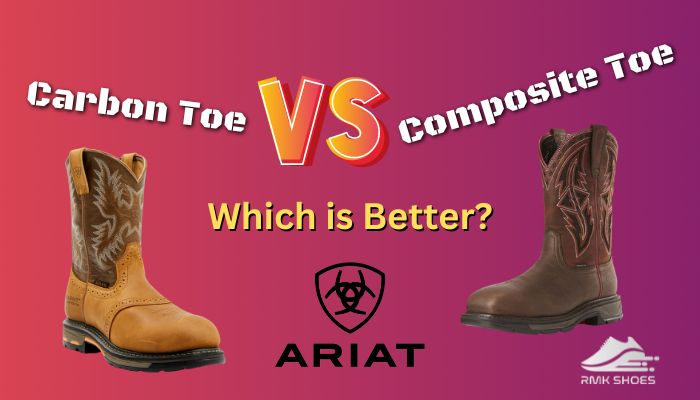 It's time to declare the winner. Considering the overall facilities, including budget, strength, and coziness, I will only stick with Carbon toe Ariat.
Because it offers more within a comparatively low budget. Whether you go to construction sites or work in a power plant, it will ensure your feet' utmost safety.
But you can pick composite toe if it is your personal preference. This set also meets ASTM standards and gives protection against electrical hazards and rough weather.
Moreover, the composite toe boot keeps feet away from cold. But remember that this piece won't be much smoother and lightweight like carbon toe.
FAQs
Is carbon fiber toe as good as composite toe?
Carbon fiber toe is better than composite boots because it is light and comfy compared to composite toe. However you may find carbon toes more pricey, but in Ariat, Carbon toe boots' retail cost is lower.
Is carbon and composite toe the same?
No, carbon toe is different from composite toe in terms of base material, weight, and price. Where most part of the carbon toe consists of carbon fiber, the composite toe is crafted from multiple substances.
What is the difference between carbon composite and steel-toe boots?
Steel-toe boots are metallic, weighty, hard and present additional safety in robust conditions. Whereas carbon composite is a non-metallic, lighter, and secured workboot.
Takeaway Thoughts
Do not fear the injuries that result from massive weights falling onto your toes or electric shock. Because Ariat's Carbon toe and Composite toe boots are able to withstand these higher impacts.
You can choose any one of them for your challenging workstation. They aren't bad for feet, and there's no possibility of cutting toes in these boots, as steel-toe boots are.
So, which one is your choice? Let me know in the comments.