I always struggle to pick one between my Air Max 97 and 90 while going out. The choice is so difficult due to their perfect balance of comfort and style.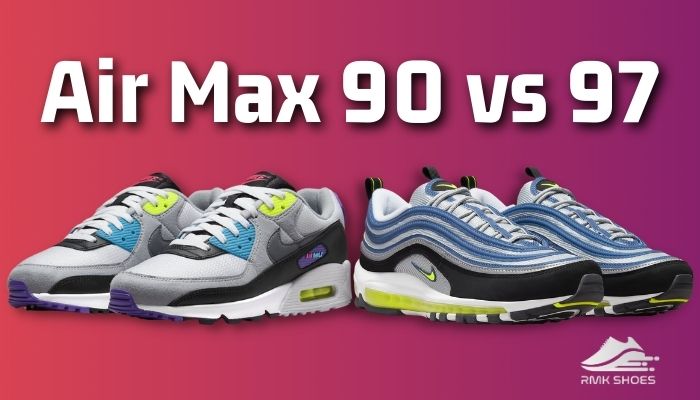 However, don't worry if you can't decide between these two iconic sneakers while buying.
Here, I'll give you a detailed comparison between the Nike Air Max 97 and 90 from my own experience so that you can make the right decision.
So, let's strap in!
Overview of Air Max 97 and 90
Before jumping to the comparison, let's take a peek into the history of the Air Max 90 and 97.
The Air Max 90, also known as the Air Max III, was first introduced in 1990 as the third upgraded model of the AM1.
This new model was designed by Tinker Hatfield, who also designed the original Air Max. However, this new design didn't take much time to catch the attention of sneakerheads. And shortly, AM90 became one of the most popular models of the Air Max line.
The Air Max 97, on the other hand, was introduced in 1997. Its design was inspired by the bullet trains in Japan; hence, the original grey model was named "Silver Bullet."
However, this pair is the first Nike sneaker to feature full-length air technology. And even after 20 years of its debut, the AM 97 still fits in modern fashion thanks to its futuristic design.
How Do Nike Air Max 90 and 97 Compare?
As Air Max 97 and 90 come from the same line of Nike, they have some similarities in features, such as visible air cushioning in the midsole and foam insoles. However, they mainly confer differences in design, variety, and price.
So, let's find out how Air Max 90 and 97 differ in all aspects:
1. Overall Design
The most noticeable difference between AM 90 and AM 97 is in the design they come with.
Let's check out what the design differences are: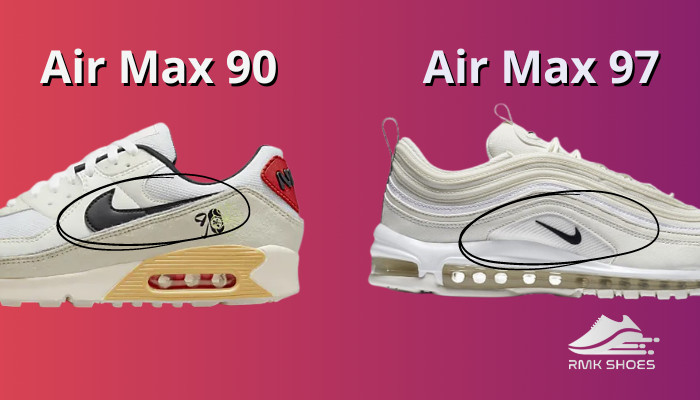 Air Max 97 features full-length visible air cushioning all the way around the shoe. But just like other classic Air Max shoes, AM 90 features a short visible air cushioning in the midsole.
The AM 90 features the usual Nike pattern for the upper design, where the iconic swoosh is placed right above the curved "Air Max" name.
But the AM 97 comes with a totally different design from the usual. This shoe features the iconic "Ripple Design" all over the upper. This wavy pattern is followed by a small Nike swoosh placed above the visible midsole.
Also, they differ in their lacing design. AM 90 offers a classic lacing system with extra eyelets so that you can use the laces differently.
But AM 97 features a cool lacing design with hidden eyelets. Also, you'll find pull tabs attached in the openings making the shoes easy to put on and off.
Personally, I like the overall design of AM 97 better. This shoe offers a sleek and modern design. Whenever I wanna look cool around my peers, I grab this pair without hesitation.
And just like my expectation, regardless of my ordinary outfit, AM 97 enhances my final look.
2. Tread Pattern
Although both Nike Air Max shoes are non-slip due to their grippy outsole, their tread patterns differ.
With a curvy design, the outsole of the AM 97 is slimmer than that of the AM 90, especially around the midfoot.
Plus, both shoes feature different tread patterns. While AM 90 comes with classic waffle patterns, AM 97 has block treads arranged in an oval pattern.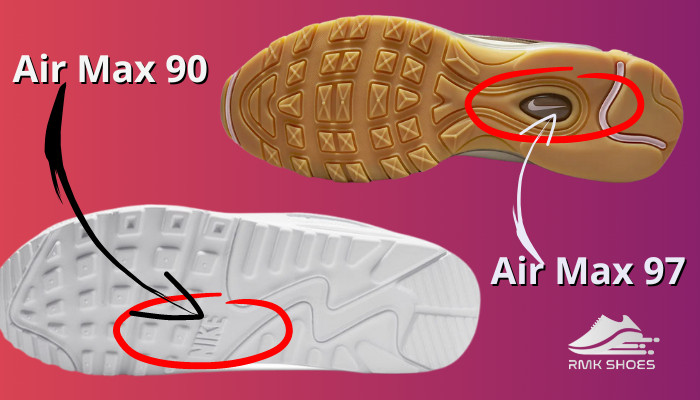 And in AM 97, a small Nike logo is placed at the beginning of the heel. But instead of the logo, AM 90 features a curved "Nike" in its outsole.
3. Comfort
Whether it's Air Max 97, Air Max 90, or Air Max 90 LTR, all of them are comfortable due to their air cushioning technology.
AM 97 and AM 90 both offer breathable mesh uppers with comfy foam insoles. But AM 90 was more comfortable for me, as AM 97 outsole feels a bit stiffer.
Other than the stiff feeling, the shoe also fits tightly due to the narrow midsole.
Plus, the lacing system of AM 97 looks cool, but the laces easily untie while walking. And this is not what you want in a pair of running shoes, as they are supposed to protect your feet from slipping off.
4. Sizing
These two Nike pairs also differ in their size and fit. Generally, the AM 90 fits true to size, but the AM 97 runs small for average feet.
So, it's okay to go with your regular sneaker size with the AM 90. But for the AM 97, you may need to go half a size up.
Note: Both Air Max 97 and 90 only offer regular width. So, none of them will be a good choice for wide feet.
5. Style Options
The AM 90 offers more style options than the AM 97. AM 90 has more than 50 style options for people of all ages and gender. On the other hand, AM 97 offers only 18 styles for men, women, and kids.
So with the AM 90, you will likely find a suitable pair that matches all your needs.
6. Price
When it comes to the price, AM 90 offers more affordable options than AM 97.
The price range for Air Max 90 is from $25 to over $150. They also offer customized Nike Air Max 90 Futura shoes, which come at a whopping price of $200 USD.
Conversely, the price of Air Max 97 ranges from $98 to over $200.
Moreover, both shoes have their own similarities and dissimilarities in features. But to find out your suitable one, you must have good knowledge of all their pros and cons along with the differences.
Pros and Cons of Air Max 97 and Air Max 90
Knowing all the positive and negative sides of a shoe can help you decide whether it will be right for you or not. The same goes for AM 90 and AM 97.
So, let's check out the benefits and drawbacks of Air Max 97 and Air Max 90:
Air Max 97
Pros
»

Stylish and futuristic design.

»

Durable materials.

»

Lightweight.

»

Breathable.
Cons
»

Expensive.

»

Offers fewer style options.

»

Runs small.

»

Narrow midfoot and toe design.
Air Max 90
Pros
»

Affordable.

»

Fits true to size.

»

Wide range of style options available.

»

More comfortable.

»

Breathable and durable material.
Cons
»

Only classic appearance and design are available.

»

Not suitable for wide feet.

»

Break-in period is needed.
Which Air Max is Better Between the 97 and 90?
Both Nike sneakers offer a perfect combination of comfort, style, and functionality. Hence, it's quite difficult to put one before another.
Even so, you can pick one between them according to your need for function and features.
For example, if you want a classic Nike running pair at an affordable price, go with the Air Max 90. Other than being a cheap Nike option, the AM 90 offers a comfy fit with a classic retro design. So, from the tracks to the sidewalk, you can wear this pair everywhere.
On the other side, if the price isn't an issue, and you need sneakers with a super cool design, consider buying Air Max 97.
Although this shoe gives a snug fitting, after a few wears, it fits better. Another great thing about Air Max 97 is that it can add 1.6 inches of height to you.
So apart from looking cool, if you wanna look taller as well, go with the AM 97.
FAQs
Do Air Max 90 and Air Max 97 Fit The Same?
Air Max 90 and 97 don't fit the same. While the AM 90 fits true to size, the AM 97 runs smaller. So you can go with your normal size for AM 90, but for AM 97, you may need to size up.
Do Air Max 90 Make You Taller?
Yes, Air Max 90 can make you look taller, as this can add 1 to 1.3 extra inches to your height. It is the air cushioning system that increases the heel's height giving a taller appearance.
Are Nike Air Max 97 Comfortable?
Yes, like all other Air Max shoes, AM 97 is pretty comfortable to wear. This sneaker is so comfy due to its foam padding, air cushioning, and breathable mesh upper.
Bottom Line
Making a pick between the Air Max 97 and 90 can be a daunting task.
But after knowing their comparison to the last detail from this article, hopefully, you can now make your choice. And remember, you can never go wrong with Nike's Air Max, so whichever you pick will be worth it.
However, for more queries about Nike running shoes, leave a comment below!