In my professional career, I have worn several branded dress shoes. And found that Allen Edmond is the first choice if you are searching for the best appealing pairs for your new corporate life.
But Allen Edmonds is constantly being compared with Cole Haan because of their similar attributes. You may wonder why I'm choosing AE over Cole Haan, right?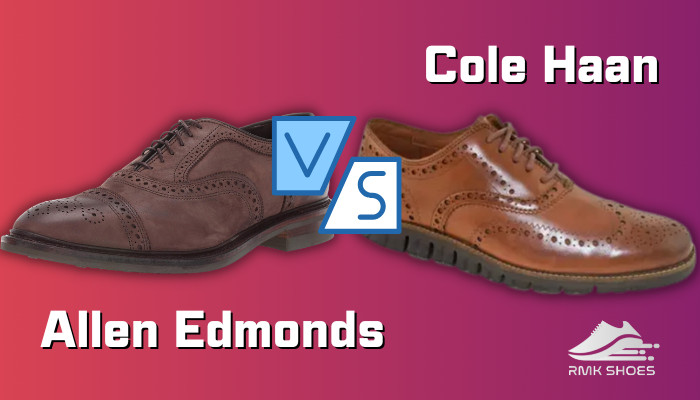 In this article, I'll share what I perceive from Allen Edmonds, making them more desirable than Cole Haan.
Let's scroll down!
Overview Comparison Table of Allen Edmonds and Cole Haan
Cole Haan & Allen Edmonds both reign as a lion in the American shoe field and hold 100 years of heritage. Before diving into the detailed comparison, you should know their rich history and legacy to understand their thoughts.
Let's check out the Overview Comparison Chart of Cole Haan & Allen Edmonds:
| Concern | Allen Edmonds | Cole Haan |
| --- | --- | --- |
| Released Date | The brand was released in 1922, and now they lead their long 101 years of carrier. | The apparel brand started its journey in 1928. |
| Founder | Initially, Elbart W. Allen started this shoe brand as Allen-Spiegel Co. | Trafton Cole & Eddie Haan are the founders of the Cole Haan Brand. |
| Headquarter | Belgium, Wisconsin. | In recent days, they have headquarters in Greenland & New York. |
| Purposes | During world war two, they produced shoes for the US Navy & US Army. | Wanted to manufacture good quality leather shoes with an affordable budget. |
| Known For | Known for the most durable dress shoes. | Famous for the men's footwear label. |
Function Variations Between Cole Haan & Allen Edmonds
After seeing their short overview, it's high time to know the features that make both Allen Edmonds & Cole Haan distinguishable. Both have distinctive alluring attributes, such as comfort, durability, stability, and so on.
So, let's check out the major feature variations of Cole Haan & Allen Edmonds:
Manufacturing Materials
Allen Edmonds and Cole Haan both are famous for their leather dress shoes. But the raw materials are totally different in both shoes where the AE uses full-grain calfskin leather, and Cole Haan uses corrected leather to make their regular pairs.
Cole Haan uses faux or polished leather and charges lower compared to other leather shoes.
They also have some unique models, using whole-grain leather to make the soles, but those pairs charge more than their regular price. For example, Men's Washington Grand Laser Wingtip Oxford is one of their famous leather shoes.
On the other hand, Allen Edmonds only uses top-rated calfskin or full-grain leather to make their dress shoes. This leather offers more functions compared to polished leather, such as breathability, durability, comfort, etc.
For instance, Allen Edmonds Park Avenue & Fifth Avenue use different leather. Whereas Park Avenue is manufactured with premium Calfskin, Fifth Avenue is featured with full-grain leather. And both shoes offer ultimate breathability, which is missing in other split-grain or corrected leather shoes.
Technology
The Allen Edmonds uses shock-absorbing technology and cork footbeds, which makes them noticeably smoother than the other leather shoes.
Moreover, this American shoe brand uses the Goodyear welting technique to attach its shoe parts. And this technology mainly makes the shoes long-lasting.
Conversely, the Cole Haan incorporates EVA midsole and Grand.OS technology to make their shoes iconic. The brand uses Natural Storm Welt to manufacture its shoes.
On top of that, Cole Haan uses the patent-pending converting process to convert dandelions to their innovative rubber outsole. The smooth outsole offers flexible movement and makes Cole Haan shoes overall good.
Size & Fittings
Size-wise, Allen Edmonds & Cole Haan both run half size smaller than the actual size. And it's better to go with a large size for perfect fittings.
There is a little difference in their fittings; comparatively, Cole Haan comes with a narrow-toe box which can create issues for those who have wide feet.
Fortunately, Allen Edmonds presents AAA & EEE sizes as their wide options. And it provides enough space in the toe box so that you can easily wiggle your foot.
Price Range
Regarding price range, Allen Edmonds asks a huge amount compared to Cole Haan.
Cole Haan shoes ask for $50 to a maximum of $400 for their full-grain leather pairs.
The minimum price of Allen Edmond is $200, and the maximum price is $600.
Now you can see the mismatches in both shoe pricing. AE shoes are actually demanding extra, for which you will find all the top-notch features with durability.
Apart from durability, you will find similar attributes in the Cole Haan Shoes, which are fully worthy.
Comfort & Support
In terms of comfort, Allen Edmonds is the best pair after the break-in. The single oak leather feels a little slippery initially, but after using them for a couple of weeks, you can find the ultimate comfort in your AE Oxford shoes.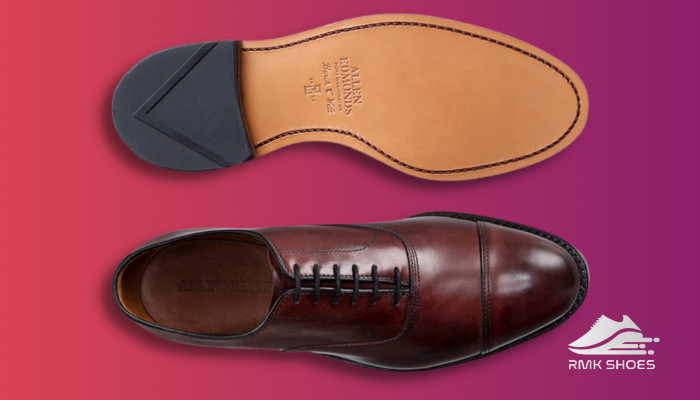 Besides, the cork footbed works to reduce the shock impact with ankle support. Plus, the famous welting technique makes them ultra-comfortable.
In the meantime, Cole Haan also offers moderate comfort because of the EVA midsole. And you will find enough coziness in their whole-grain leather pairs.
On top of that, their rubbery grip provides noticeable traction and makes them suitable for every season.
Offered Durability
Durability is the main reason for choosing Allen Edmonds over any other dress shoes. Well, there is no certain period of their lifetime, but after using several years, you won't see any single blots in their bottom. And Still, my leather-soled calfskin shoes look fresh.
While the Cole Haan shoes only offer 2 years lifetime. After regular use, the shoes show certain holes in the bottom and insoles.
Cole Haan Vs Allen Edmonds: Pros & Cons
Cole Haan & Allen Edmonds both shoes are filled with alluring advantages. Yet, they carry some drawbacks too. In this segment, I'll describe their benefits with my personal ratings. Let's roll down:
Allen Edmonds
Pros
»

Breathable leather ★★★★☆

»

Durability ★★★★★

»

Comfortable midsole ★★★★☆

»

Wide line available ★★★★☆

»

Moderate traction ★★★☆☆
Cole Haan
Pros
»

Budget-friendly price ★★★★☆

»

Good Traction ★★★☆☆

»

Comfort ★★★☆☆
Cons
»

Breathability ★★☆☆☆

»

Durability ★☆☆☆☆

»

Inappropriate for wide feet ★☆☆☆☆
Verdict
After this in-depth comparison of both shoes, now you have enough knowledge of why I'm choosing Allen Edmonds over Cole Haan.
Personally, durability and breathability are my two most favorite criteria of Allen Edmonds. The premium calfskin presents a bold yet comfortable appearance.
Nonetheless, the comfort they offer with the shock absorb technology is tremendous. But they charge a little more, so you can consider Cole Haan as an AE budget-friendly option.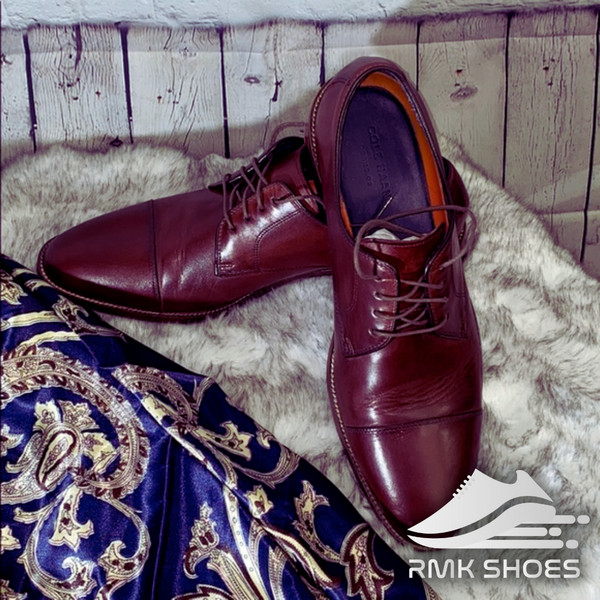 So, if you have any budget shortage and need better traction, select the Cole Haan pair. As a consequence of their unbreathable feature, the shoe kept your feet warm in chilly weather.
Finally, I want to say both Cole Haan & Allen Edmond shoes are amazing dress shoes. Hopefully, this article aids you in making the best decision when you have to select one pair.
FAQs
Is Cole Haan considered a luxury brand?
Cole Haan considers a complete luxury brand for their premium quality. The brand always tries to innovate its shoes according to modern taste buds.
Where is Allen Edmonds made?
Allen Edmonds is handcrafted in Port Washington, Wisconsin. And the shoes are made with premium imported materials in their warehouse.
Does Cole Haan run small?
Yes, most Cole Haan models run ½ size smaller. But you also find some Cole Haan dress shoes that run true to size.
What is Allen Edmonds known for?
Allen Edmonds is known for their high-quality shoes and finest craftsmanship. Since 1922, the brand has satisfied business leaders, celebrities, and politicians by providing top-rated dress shoes.