Ever seen a fabulous pair of duck boots and really wanted to buy them, but the only problem was you were unsure about their functionality? 
If you come from an area where rain is a familiar friend, you must have wondered whether duck boots are rain boots. 
And likely so, owing to the lower rubber exterior, I have received a lot of similar questions about duck boots. So, are duck boots rain boots?
No, duck boots are not rain boots, they are structurally and functionally different from rain boots. However, even though they are not "rain boots", they are an excellent choice of boots for the rain. The waterproof exterior and warm interior make them a comfortable companion for cold, rainy days.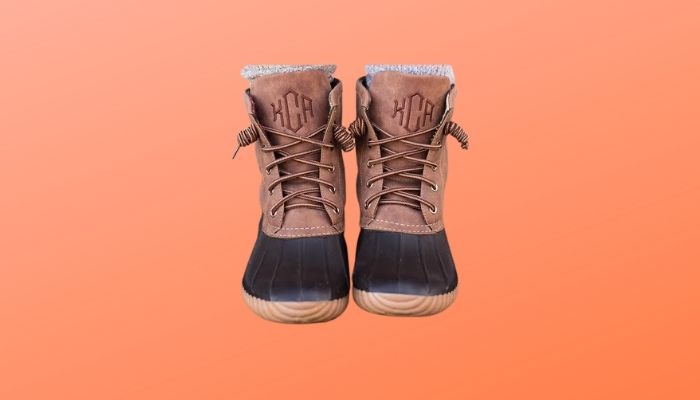 If they are not rain boots, how can they be worn in the rain? What is their function? How are they different from other boots? 
Don't worry, I have the answers to all your questions. So, keep reading till the end to find out all about duck boots.
What Are Duck Boots?
Before I tell you how duck boots are different from simple rain boots, let me begin with what duck boots are.
Duck boots are tough and waterproof boots with a unique design, much unlike ordinary boots. Usually coming up to the ankle, duck boots have two sections: lower rubber section and upper leather section. They are comfortable, yet versatile, and can be worn even if it rains or snows.
Their unique design is guaranteed to catch your attention – which is probably why you are here reading this article!
Initially created as hunting gear for men, their sturdy quality surely lives up to the expectation. 
First created by Leon Leonwood Bean, they were initially referred to as bean boots. 
They got their infamous name of "duck boots" much later. This is because they are commonly used by hunters (especially duck hunters!). Since they go hunting in swampy terrains, they need protection from the mud and water, so these boots are the best choice for them.
These boots made it possible for humans, like you and I, to go around walking and jumping around mud and water, doing all sorts of activity, much like ducks. As a result, they became known as duck boots.
Whenever he'd return from his hunting trip, his boots would be soaking wet. So, he came up with the marvelous idea to combine the rubber soles from working boots used by farmers and workers with the leather part of casual leather boots. The final outcome was a duck boot.
Read more on how to Stop Rubber Rain Boots From Squeaking.
How Are Duck Boots Different From Rain Boots? 
Ordinary rain boots are made of rubber and usually come up to the calves, on the other hand, duck boots are made of leather and rubber and come up to the ankles. Despite the differences, they are both waterproof and can be effectively used to protect your feet from getting wet in the rain.
The duck boots are far more structurally sophisticated when compared to rain boots. 
The rubber lower section of rubber boots makes them wearable in the rain, like rain boots. However, they have more functionality.
Due to the rich leather section of the duck boots, they provide a much more comfortable, cozy, and warm fit, unlike rain boots. So, they can be effectively used in the snow without compromising comfort.
Follow our guide to know Are Rain Boots Slip Resistant.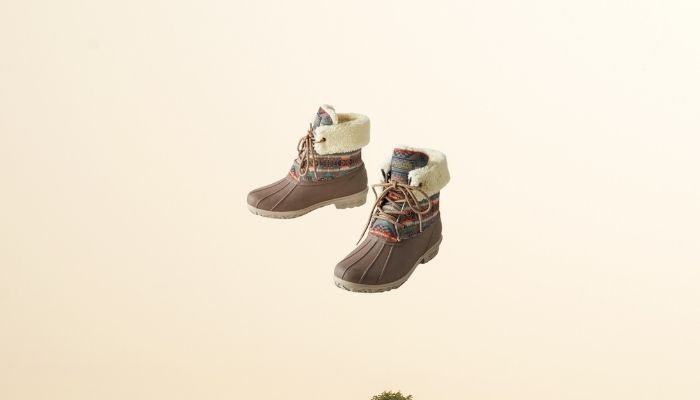 Their appearance and design are also very different. Whereas rain boots have a smooth, plastic-like exterior with a tug at the back and no laces, duck boots come with a leather exterior at the top and rubber at the bottom with laces to tie up the boots for a snug and comfy fit. 
Whether the weather is dry or wet from rain and snow, you can still wear your duck boots because of the comfort and style they provide, which is not the case for usual rain boots.
You would not opt for rain boots if the weather is dry, but you can effortlessly rock your duck boots even when there's no sign of rain or snow.
Also, read Do Rain Boots Stretch? Guide And Tips.
Where Can You Wear Duck Boots?
If it is raining or snowing, it is the perfect time to wear your duck boots. They will provide the waterproof protection you need, as well as sufficient warmth and comfort. But you can also wear them when it's dry outside because they come in classic colors and can be worn fashionably.
Since these boots have the leather element, they come in various colors and designs. You will usually find them in many classic colors – ranging from blacks and greys to blues and browns.
So, you can totally pair your duck boots with your casual clothes. And unlike rain boots, you do not have to worry about them making your outfit look mismatched.
You can wear your duck boots over or tucked under your pants and look great. They can also be worn jeans, leggings, and trousers. You can wear them with shirts, sweaters, tunics, or even a cute sweater. 
Another fun way to style your duck boots is with a cute sundress along with a turtleneck for additional warmth and comfort. 
How you style your duck boots is totally up to you, if you wear them with confidence they will look great anyways!
Duck boots are also available in smaller sizes for kids. It is simply perfect for protecting their feet from cold rain and snow all while providing the fantastic stylish element to their outfit.
Read more on Why Are Rain Boots Yellow.
Can You Wear Duck Boots In The Summer?
One question I have encountered quite a lot is whether it is okay to wear duck boots in the summer. 
Well, duck boots are generally considered a winter companion, best for rainy or snowy times. But that does not mean you cannot wear them in the summer.
However, there are many things you must take into consideration before wearing them in the summer.
Make sure that you buy a pair of high-quality duck boots so that they are comfortable. Remember it's an investment because they will last you for many years to come.
Even though they mostly come in ankle length, they are also available in varying sizes. For summer, you might want to opt for Chelsea duck boots to provide more space and air as compared to the ankle-length ones.
They come with and without insulated lining. If you are hoping to wear them in the summer, you might want to ditch the insulated ones. Also, you should opt for thin socks to avoid your feet getting too hot.
Tie on your laces tightly and style them with a pair of tight jeans, or floaty sundress to look fashionable and fab – you will surely rock in your duck boots.
You may also like to read: Can Rain Boots Be Repaired.
Conclusion
Duck boots are not the same as rain boots, but they were definitely made to be worn in muddy and wet weather. So, they are a great option for boots in the rain.
If you own a pair of duck boots, take them out on a rainy day, you'll be pleasantly surprised. 
If you don't own one, you might just want to try them out. I am sure these boots won't disappoint you.
I hope you found this article helpful. If you have any questions, suggestions, or feedback, please leave them in the comment section below.