You're probably looking for the simplest technique to remove shoe polish from dress shoes if you've come to this place.
Let me assist you with simple yet efficient techniques for removing shoe polish from your dress shoes.
I am sure that this article will assist you in removing shoe polish from your dress shoes since all of these procedures have been tried and tested, and the results have blown me away.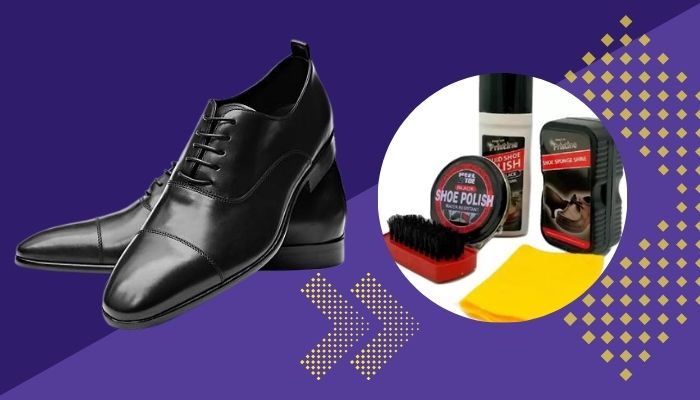 Continue reading to learn more about shoe polish and how to take it off from dress shoes. And by the end of this post, you will thank me.
How To Remove Shoe Polish From Dress Shoes? [5 Proven Methods]
Sometimes you spill a can of shoe polish on your dress shoes by mistake, or your dress shoes have too many coats of shoe polish on them. Most individuals throw away their dress shoes in these situations because they believe the shoe polish cannot be removed.
But I've come to bring you some excellent news. Whether you used the wrong color or your dress shoe is piled high with polish, you can quickly remove it.
Yes, you read that correctly. You can remove the shoe polish from your dress shoes following a few simple steps.
I've included a couple of methods that I found to be effective in removing shoe polish from my dress shoes below.
Here is how to remove shoe polish from dress shoes:
A pair of dress shoes is entirely made of leather, from the sole to the lining. And when removing the polish off leather, it is best to do so as quickly as possible because the longer the stain remains on the shoes, the more difficult it will be to remove. 
Follow our guide on how to Remove Shoe Polish From Suede Shoes
Method 1: Use Cotton Cloth and Water
 This method is only applicable for freshly applied shoe polish. If you want to remove old and dried shoe polish from dress shoes, then don't rely on this method; instead, look for alternative options.
Follow these steps to remove shoe polish using cotton cloth and water:
Begin the removal process while the shoe polish is still wet.
Wring out a cotton cloth after it has been wet with warm water. Wipe away as much of the shoe polish as you can with the damp cloth.
You can use another clean rag if the cloth becomes messy.
Brush the areas where the shoe polish has been applied or spilled with a soft-bristled toothbrush.
Once you're finished with the cleaning, wipe away the shoe polish residue with a dry towel.
Allow the shoe to dry.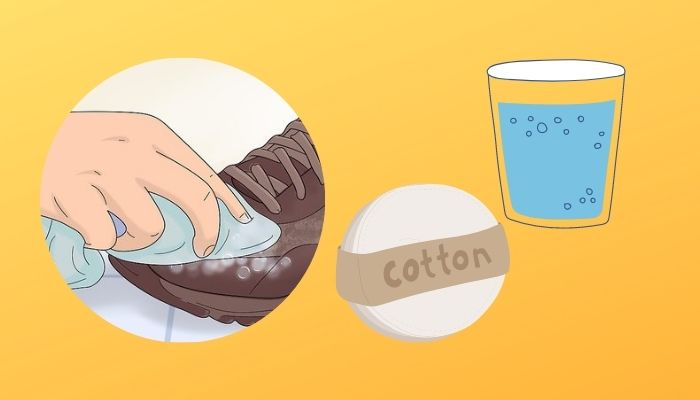 Also read, Shoe Cream vs Shoe Polish
Method 2: Use Saddle Soap
To remove polish off dress shoes, saddle soap is a great choice. Saddle soap also conditions the fabric of the shoe.
Fill the insides of the shoes with newspaper or insert a shoe tree to keep the shoes from falling apart.
Gently wash the shoes with a damp clean cloth to eliminate extra dirt and moisten the shoes so that saddle soap can function well on them.
Wet another towel with warm water and set it aside. Wrap the cloth over your fingers, rub some saddle soap on it and create lather.
Rub the soap all over the shoes in a circular motion.
Wipe up the residues with a clean towel once the soap has penetrated through the shoe polish and into the shoes. You will notice the shoe polish coming off into the towel.
Allow the shoes to air dry for a few hours before wearing them.
Check out our separate post on How Long Should Dress Shoes Last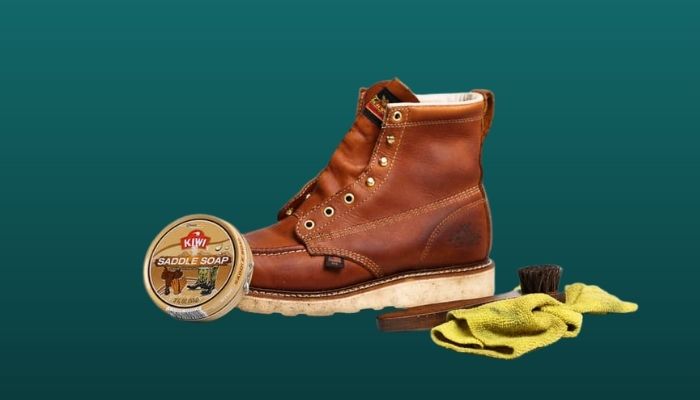 Method 3: Use Rubbing Alcohol
Follow these steps:
Apply a few drops of rubbing alcohol or nail polish remover on a cotton pad and massage the cotton pad over the shoe polish in small circular strokes.
Allow the alcohol to settle for a few minutes in the shoe. Also, don't keep the rubbing alcohol or nail polish remover on the shoes for too long, as this will discolor them and make them too dry.
After a few minutes, wipe off the alcohol residue, and the dissolved shoe polish will come off, on the cotton pad.
When no more shoe polish is left, add leather conditioner to the shoes to complete the procedure. Using a leather conditioner prevents the shoes from becoming too dry.
But before that, you check out Do Shoe Stretchers Work
Method 4: Use Hair Dryer
Using a heating source to remove shoe polish off a dress shoe is the most tricky and risky option. The best and most secure heating source is a hairdryer.
Follow these steps:
Set the hairdryer to medium and place it a few inches away from the shoes. Avoid putting the hair dryer too close to the shoes since this might cause them to burn.
Blow hot air into the shoe. The heated air will melt the wax in the shoe polish.
You will see that the wax begins to drip.
Wipe away the polish with a dry cotton towel. If the wax has become adhered to the shoes, simply rub on the wax to remove it.
Allow the shoe to dry before adding the leather conditioner.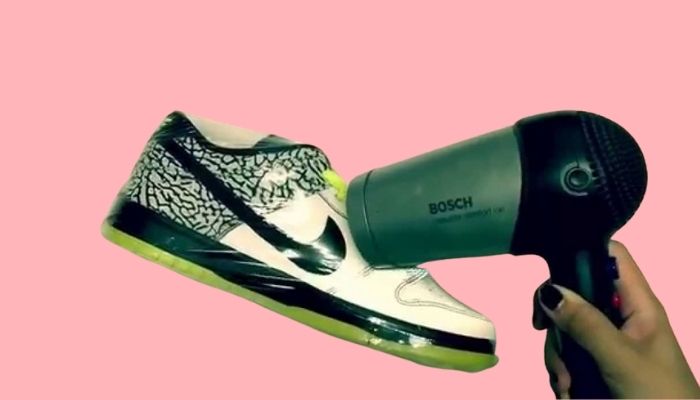 Do check our latest post on the What Does Shoe Width Letters Mean
Method 5: Use Leather Cleaner
Invest in a leather cleaner and say bye-bye to shoe polish from your dress shoes. There are many different kinds of leather cleaners on the market, and you may choose one that fits your budget.
Follow these steps:
Remove the shoelaces and place them in a safe place.
To eliminate dirt and filth from the shoes, brush them vigorously.
Using a clean rag, moisten it with water.
Start rubbing the polished area with the damp towel and a few drops of leather cleanser. The better you massage the leather cleaner into the shoes, the easier it will be to remove the wax.
Using a wet towel, wipe away the dissolved shoe polish.
Before wearing the shoes, leave them in a well-ventilated area to dry.
Related guides: How To Polish Tan Leather Shoes, Can You Polish Nubuck Shoes
Conclusion
Let's address the original question, in a nutshell, one more time: how to remove shoe polish from dress shoes?
It is possible to remove shoe polish from dress shoes, but you have to do it as soon as possible because if the shoe polish dries up, it will be tough to take them out. You can remove the shoe polish by using rubbing alcohol, leather cleaner, soap, and water and also using heat.

Not only does applying wrong shoe polish need to be removed, but when you apply layer after layer polish on your dress shoes after a particular time, they need to be removed too.
Removing the shoe polish prevents your shoes from cracking, protects the finishing of the shoe, and most importantly, keeps the shoes healthy.
That's all for today. I hope this article was helpful to you. If you want to ask any other questions regarding this topic, then comment below.
Until then, goodbye!